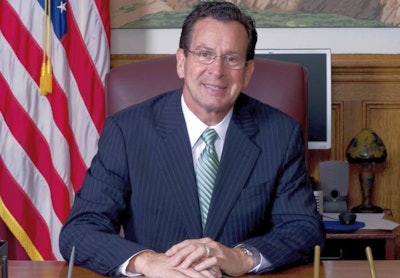 Reeling from the Sandy Hook Elementary massacre, Connecticut today tightened its gun-control laws as Gov. Dannel Malloy signed into law a stricter assault weapons ban, limit on magazine size, the nation's first dangerous weapon offender registry, and eligibility rules for buying ammunition.
The laws were designed as a response to the killing of 20 children and six educators at the school on Dec. 14. Connecticut joins California, New York, New Jersey, and Massachusetts as states with the strictest controls on weapons, reports the Associated Press.
"We applaud the actions taken by leaders in states like Connecticut, Colorado and New York, and we hope that the Congress is watching," said Dan Gross, president of the Brady Campaign to Prevent Gun Violence. "It is their turn to remember that what they are debating is about preventing the thousands of senseless deaths each year from guns which have fallen into the wrong hands."
Gov. Malloy signed the legislation in Manchester Thursday morning, ahead of a community forum on gun violence prevention, mental health and school safety.
Connecticut's legislation comes on the heels of strict gun control laws passed in Colorado and New York earlier this year. Colorado passed a magazine limit of 15 rounds, while New York's law limits magazines to seven rounds.
The move may cost the state Colt, one of its most historic businesses. In late March, Colt Manufacturing said it would consider relocating if the laws were passed.