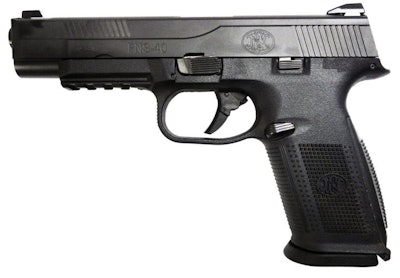 The Baltimore County (Md.) Police Department purchased FNS-40LS (Long Slide) duty pistols in August, becoming the first police agency in the country to adopt the pistol for duty.
The agency ordered 1,920 of the striker-fired, double-action FNS-40LS pistols that arrive chambered in .40 S&W, the company announced. FNH USA also produces a 9mm version of pistols first introduced in 2011. The pistols will be issued in January.
The LS models feature a 5-inch barrel and extended sight radius. FNH has been producing this variant for law enforcement only since 2012. Baltimore County PD officers are receiving upgraded Warren-Sevigny Carry Night Sights in a two-dot configuration (green front lamp with white ring) and 14-round magazines.
The pistols also offer an ambidextrous magazine release and slide stop. Trigger pulls range from 5.5 to 7.7 pounds.
The pistols will be manufactured in Columbia, S.C., and distributed through AmChar Wholesale.