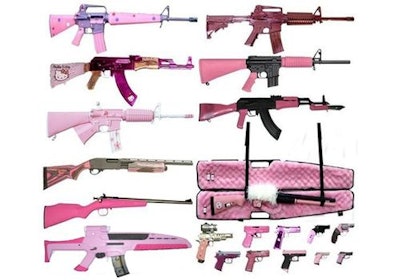 The police union representing LAPD officers has condemned a proposed city ordinance requiring BB guns to be painted a bright color, calling it "ill-advised and dangerous."
The Los Angeles City Council on Wednesday directed its city attorney to draft legislation proposed by a former LAPD sergeant turned City Council member designed to help protect officers from office-involved shootings involving toy guns.
Dennis Zine, a former LAPD motor sergeant, said the ordinance would require all BB devices, Airsoft pistols, and other imitation firearms to have the entire exterior surface painted "in a distinguishable color that will enable law enforcement to readily distinguish these imitation firearms from other firearms," reports CBS Los Angeles.
The City Council voted 14-1 Wednesday to draft the legislation. Former LAPD Chief Bernard Parks voted against it.
Tyler Izen, president of the Los Angeles Police Protective League, said the legislation would have the opposite effect because criminals would attempt to mask real guns by painting them bright colors.
"This is a horrible idea that may cause officers to hesitate when confronted with a colored rifle when we already know that fully operable handguns and rifles have been painted bright colors," Izen said in a statement. "The law is designed to create doubt in an officer's mind. If they hesitate they could be killed."
Izen also added that the law would give parents a false sense of security when giving their children colorful guns.