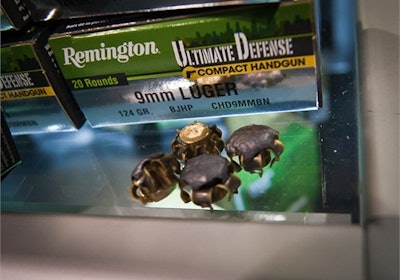 Remington announced at the SHOT Show this week that it is launching a line of ammo specifically formulated and engineered to produce the optimum results from short-barreled handguns.
Marketed in the Ultimate Defense line of Remington ammo, the Compact Handgun rounds are designed for shooters who carry subcompact pistols.
Chris Faust, Remington's product manager for pistol and revolver ammunition, says when some hollow point ammo is fired from a short-barreled pistol it won't expand properly, which can cause overpenetration.
Remington's solution to the problem has been to engineer a bullet that will expand properly at lower velocities. The bullets used in the new Compact Handgun ammo have spiral nose cuts as well as a softer lead core to make them expand faster from a compact or subcompact handgun.
Faust says the company's tests of the new Compact Handgun ammo have yielded "very consistent results" of 13 to 14 inches of penetration in ballistic gelatin.
Both .380 and 9mm ammo are available now. Faust says .40 S&W, .45 ACP, and .38 Special will follow very quickly.