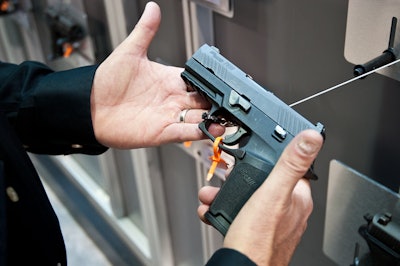 SIG Sauer entered the market for striker-fired duty pistols today at SHOT Show 2014 with the introduction of the the P320.
Available in two versions—Carry and Full-Size—the P320 offers a variety of options that allow users to tailor the hanguns to their needs and mission requirements. Both versions of the P320 are available with three different frame modules featuring different sizes of grips. Additional options include: threaded barrels, tabbed safety triggers, frame-mounted ambidextrous safeties, loaded chamber indicators, and extended magazines for the Carry version. Like the SIG P250, the P320 is a modular handgun and users can even change the caliber of their guns by switching out the barrels and other key parts.
The Full-Size P320 has an overall length of 8 inches, a barrel length of 4.7 inches, and weighs 29.4 ounces. Barrel length and overall length on the Carry model are 3.9 inches and 4.7 inches, respectively. The Carry model also weighs 3 ounces less than the Full-Size.
Show models of the P320 were all 9mm. SIG plans to have .40 S&W and .357 SIG models by the end of March, and .45 ACP models by end of June.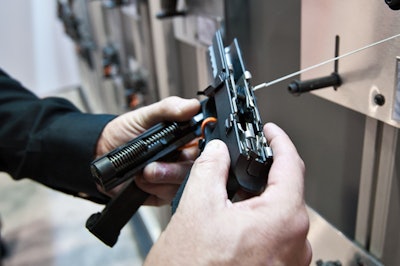 Takedown of the P320 requires no trigger manipulation. In order to begin disassembly of the gun, the user must remove the magazine and lock back the slide. No tools are required for disassembly.
"SIG decided to produce striker-fired duty pistols because of requests from law enforcement clientele," says Tony Casper a full-time police officer and an instructor at the SIG Sauer Academy.
Casper says one of the things he likes most about the P320 is the positive reset of the trigger. "Some striker-fired pistols have a mushy trigger reset," he explains. "I'm really excited about this gun and very impressed with the way it shoots," he adds.
Pricing for the P320 is expected to make the pistol competitive with other polymer-frame law enforcement duty pistols. SIG rep James Johnson says the agency price for the pistols is expected to be around $500.