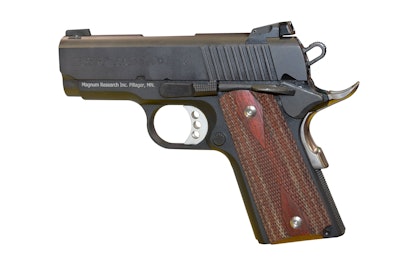 The newest 1911 from USA-based Magnum Research is a smaller, ultra-compact, ultra-light concealed carry firearm in a .45 ACP caliber called theDE1911U, Undercover model.
For the past three years, Kahr Arms subsidiary Magnum Research has offered the 1911G Government sized model with a 5-inch barrel, the 4.33-inch 1911C, and now the Undercover model DE1911U with a 3-inch bull barrel featuring an 11-degree muzzle crown.
The DE1911U is built on a lightweight frame made of aircraft-grade aluminum alloy and features a 4140 high-carbon steel slide and adjustable rear sight for windage and elevation. Standard features include checkered front and back strap, double diamond checkered wood grip, and stainless steel hex screws. The DE1911U also has a high-rise beavertail safety, skeleton hammer, and an aluminum trigger. True to the earlier 1911 variants, this model is a Series 70 configuration.
Magnum Research's .45 ACP DE1911U has a 6+1 round capacity, an overall length of 6.85 inches, a height of 5 inches, and weighs just 25.8 ounces. It comes standard with two 6-round magazines. The DE1911U will be ready for shipment beginning in January 2014. MSRP is $946.