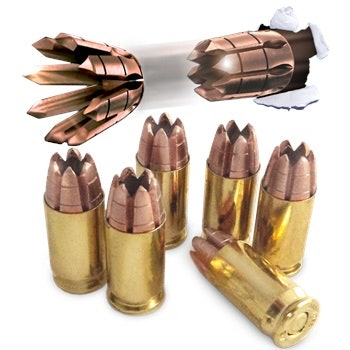 Coconut Creek, Fla.-based Maxsell Corp announced this week that it is introducing a new, innovative .380 ACP defense round.
The trocar geometry of the round's fragments allows them to cut through tissue with less resistance, maximizing the wound path and resulting in seven separate wound channels that Maxsell describes as "devastating."
Maxsell says the rounds achieved maximum expansion through standard ammunition testing. The company says the rounds have been engineered to maximize dissipation of energy and defeat major obstacles. The bullets are solid copper and lead-free.
To watch video of gelatin testing of the round, go to maxarmory.com/380vid.