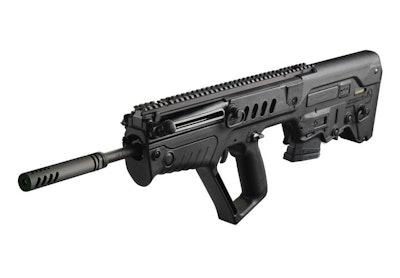 IWI US, Inc., a subsidiary of Israel Weapon Industries (IWI) Ltd., is now shipping the TAVOR SAR RS model for the state of California to area distributors. The California RS model complies with all state statutes.
The model TAVOR SAR RS (TSB16CA) is built on the 16.5-inch barrel model with a 4-inch removable muzzle brake that yields an overall length of 30 inches when attached and a 10-round magazine that can only be removed with the use of a tool.
The TAVOR SAR RS California model incorporates a full-length MIL-STD Picatinny top rail in addition to the standard short rail mounted at a 45-degree angle opposite the charging handle. Backup Iron Sights (BUIS) are embedded and spring loaded in the top of the Picatinny rail and the front post contains a Tritium insert on a standard AR thread, fully adjustable for windage and elevation (tool provided). The standard caliber is .223/5.56 NATO with a 9mm conversion kit available. Available in Black only. MSRP is $1,999.
IWI US, Inc. is a subsidiary of Israel Weapon Industries (IWI) Ltd., which for many years has operated in the global defense and law enforcement markets. IWI US, Inc. was established in 2012 in order to offer the highest quality and most advanced products available, as well as to provide a high level of service and support for American consumers. The IWI US line of products includes several configurations of the TAVOR SAR.