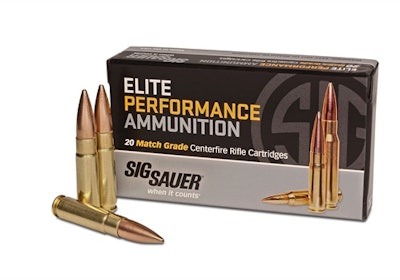 SIG Sauer, Inc. has announced the introduction of the company's first rifle ammunition product, 300 Blackout Elite Performance Ammunition Match Grade Centerfire Cartridges.
Designed for the AR-15 platform, this subsonic round features a 220-grain Open Tip Match (OTM) bullet with the SIG Sauer proprietary lead/alloy core for improved accuracy. This low-recoil cartridge is well suited to use with a silencer, which greatly reduces sound signature and muzzle flash, making it a favorite among target shooters who want to protect their hearing and tactical shooters who want to minimize noise and flash signatures. Additionally, a significant number of modern sporting rifle hunters also favor this cartridge for limited hunting applications.
"The subsonic, 220-grain 300 Blackout is fun to shoot, especially using a silencer, and extremely popular with those who want reduced sound and muzzle flash," said Bud Fini, vice president of marketing for SIG Sauer. "Fans of the 300 Blackout also appreciate the convenience of being able to use standard 5.56 NATO AR magazines with 300 Blackout rounds without a reduction in capacity. And, if they don't already own a modern sporting rifle chambered in 300 Blackout, all they have to do is change the uppers of their AR-15 to convert."
Additional offerings in Elite Performance rifle ammunition will be introduced throughout 2015, including a supersonic load for the 300 Blackout.
Follow SIG Sauer on social media, including Facebook at www.facebook.com/sigsauerinc, Instagram at www.instagram.com/sigsauerinc, and YouTube at https://www.youtube.com/user/sigsauerinc.