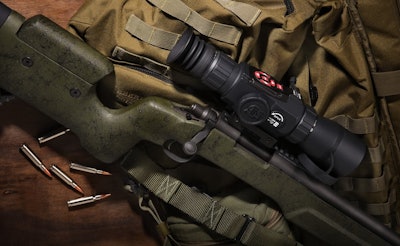 American Technologies Network (ATN) has developed the next generation of rifle scopes with the X-Sight HD Day/Night rifle scope in 5-18X or 3-12X. Originally, this scope was developed with hunters in mind. But since its introduction at SHOT show, ATN has seen an increased interest from long-range shooters, security, tactical, and law enforcement professionals. Many of the features developed to assist the hunter in the field have proven applicable to the professional, and in some cases, more so.
What makes this smart HD optic a tactical tool?
Day/Night – one button and you have a night vision scope, no switching out or adding NVG while in position over extended periods of time.
ATN Obsidian Core – specialized computer runs a suite of sensors for producing crisp color images with a 1080p high resolution sensor
Take photos and record video – micro USB, HDMI and SD card
Geotag – record location
E-Compass
Track altitude and velocity
Wi-Fi – built in Wi-Fi allows you to connect scope through mobile device or tablet. Share images/video immediately.
Gyroscope allows you to steady your view
Smooth Zoom
Customize the X-Sight specifically for your use.
All of these features and Made in the USA for an agency affordable price. MSRP for the 3-12X is $629 and the 5-18X is $729. For more information visit www.atncorp.com