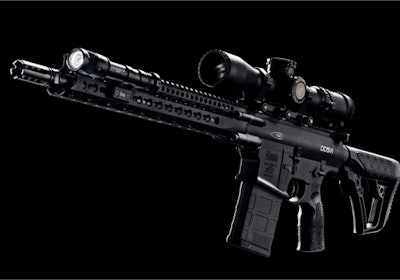 Daniel Defense—engineer and manufacturer of firearms, precision rail systems, and accessories—has announced the release of a new rifle for the 7.62 x 51mm NATO (.308) cartridge. The new DD5V1 incorporates more than a decade of expertise from Daniel Defense engineers and designers.
"I couldn't be happier with the way this rifle turned out," said Daniel Defense president and CEO Marty Daniel. "Our engineers utilized existing technology where appropriate and developed entirely new designs when necessary to optimize the performance of this gold-standard rifle. Those who demand legendary Daniel Defense quality and the increased range and terminal ballistics of 7.62mm ammo are going to be very pleased with this rifle."
With innovative features like a 4-bolt connection system, an optimized upper receiver, an improved bolt carrier group, ambidextrous controls, a configurable modular charging handle, and a cold-hammer-forged barrel, the DD5V1—although built around a traditional AR platform— establishes a new tradition in 7.62 rifles. It also features a Geissele SSA two-stage trigger for precise fire control. Even with all of these features, plus a DD Superior Suppression Device and 15-inch Picatinny top rail, the DD5V1 weighs only 8.3 pounds.
The DD5V1 rifle has an MSRP of $2,899 and will be available for purchase beginning October 23rd from authorized Daniel Defense dealers or directly from Daniel Defense at danieldefense.com.
About Daniel Defense
Located in Black Creek, Georgia, Daniel Defense is a leading manufacturer of premium firearms, rail systems, and accessories. Its iconic brand remains unmatched in quality, precision and world-class customer service. President and CEO Marty Daniel founded Daniel Defense, which originally created rails and accessories for the AR-15 platform in small batches. Now, with two locations and a combined 137,000 square feet of manufacturing space, Daniel Defense continues to make the world's leading firearms for civilian, law enforcement, and military customers.
For more information, visit www.danieldefense.com.