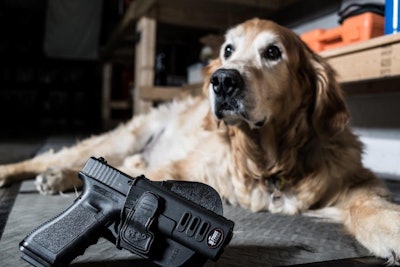 First Samco Inc. (FSI), the exclusive distributor of Fobus Holsters & Pouches, has partnered with ECAD, a non-profit that has been training service dogs to assist individuals with disabilities and children with autism since 1995.
Beginning in 2008, ECAD, which stands for Educated Canines Assisting with Disabilities, started the PROJECT HEAL program to meet the specific needs of disabled veterans.
FSI's partnership with ECAD consists of donations to ECAD from the sale of Fobus products as well as FSI's participation in and sponsorship of programs intended to bring awareness to ECAD and the service dog community at large. FSI is honored to be a part of the service dog community through ECAD knowing that so many people's lives are improved by virtue of having a highly trained service dog to assist them.
Fobus Holster, founded in Israel in 1978, introduced injection-molded polymer holsters to the market. Featuring passive and active retention with rapid deployment, Fobus offers a variety of over 140 different holster models, left and right handed, fitting hundreds of different pistols and revolvers with all possible carry options, such as inside the waistband, fixed and rotating paddle style, fixed and rotating belt style, duty belt attachments, thigh rigs, shoulder rigs, single and double magazine pouches, cuff cases and MOLLE attachments. All Fobus holsters and magazine pouches are designed to be exceptionally comfortable, durable and maintenance free. Lifetime Warranty included on all Fobus products. www.fobusholster.com
ECAD, Educated Canines Assisting with Disabilities, based in Torrington, CT, enables people with disabilities to gain greater independence and mobility through the use of specially educated dogs. To date, ECAD has placed over 25 assistance dogs in over 20 states, with a variety of over 50 different disabilities. www.ecad1.org