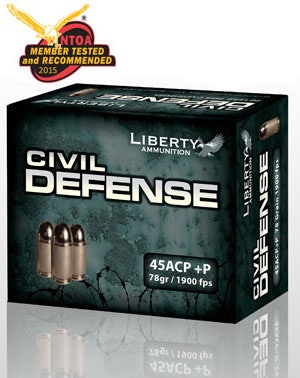 Liberty Ammunition, known for its high-performance, lead-free ammunition for military, law enforcement, and civilian markets, announced that its Civil Defense .45 ACP +P personal defense round has received National Tactical Officers Association (NTOA) Member Tested Recommended Status. Liberty Ammunition's .45 ACP +P lead-free ammunition scored 4.63 out of a possible 5 points from the NTOA Member Tested and Recommended Program (MTRP). The NTOA MTRP assesses products through field testing and scores them using 13 categories for performance or rating.
"We are very happy to have NTOA's members give the Civil Defense 45ACP +P such a high approval rating," said VP of Sales and Marketing Matt Phillips. "We want our law enforcement officers to have the highest performing duty ammunition available, and our products are designed with them in mind."
All of the field testers were impressed with the reduced weight and felt recoil of the Liberty Ammunition Civil Defense .45 ACP +P personal defense round. The testing officer from Massachusetts thought the product truly surpassed competitor's rounds with its weight, commenting that "the round is only 12 gm/0.4 ounces compared to a Federal .45 ACP +P which is 20 gm/0.75 ounces. Practically speaking, a loaded GLOCK 21 magazine weighs four ounces less with the Civil Defense round (8.3 ounces vs. 12.65 ounces). You could carry a third magazine on your belt for a tad less than two magazines of Federal +P."
Regarding recoil, the testing officer from Connecticut stated that "the recoil comparison versus traditional ammunition was significant. Less recoil could lead to faster recovery time between shots, especially for shooters that don't get the amount of trigger time that they should."
He continued to say that "another notable advantage is the significant weight reduction versus traditional ammunition. For a guy that carries a load out of 40 - 60 rounds, the lightweight ammo is helpful." The Colorado testing officer echoed the Connecticut officer's sentiments, saying that the "Civil Defense ammo's recoil was MUCH less than the Winchester duty ammo. This reduced recoil allowed me to land my second round of the Civil Defense ammo in a double tap / hammer pair much closer to the first round than I can with the Winchester ammo."
Liberty Ammunition's .45 ACP +P lead-free ammunition is a 78 grain, lead-free personal defense ammunition that offers advantages over traditional jacketed hollow-point ammunition. The concept behind Liberty Ammunition's Civil Defense Ammunition is high speed and high energy bullets, which penetrate barriers - without deforming or deflecting - with a massive energy release when soft tissue is encountered. This high velocity round yields less felt recoil, which can lead to faster recovery time between shots.
All the testing officers felt confident recommending the Civil Defense .45 ACP +P as a personal defense round for "anyone wanting to carry a lightweight round." The testing officer from Colorado said that "with the added benefit of the reduced risk of over penetration of errant rounds, I think that any agency would benefit from considering making the switch to Liberty Ammunitions Civil Defense rounds for their issued duty ammo."
Check out the entire line of high-performance, lead-free Liberty Ammunition, as well as apparel products, at www.libertyammunition.com.
Liberty Ammunition sells ammunition for hunting, personal defense, law enforcement, and the military. www.libertyammunition.com