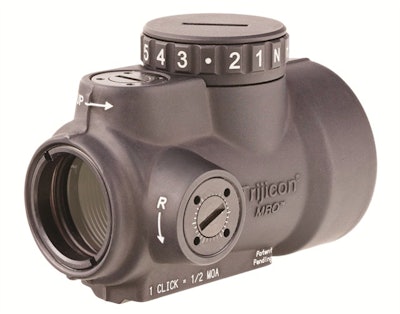 Trijicon optics are a staple of any tactical arsenal. I've owned more of their stuff than I can remember and their pistol night sights have gone to work with me every day of my career without fail. Specifically, their ACOG line of rifle optics is famous amongst law enforcement and military and is still one of the most widely used optics on the market today. The ACOG and Trijicon's other magnified optics are fantastic but they didn't offer much competition to the super popular "red dot" optic market. That is, until now.
The much anticipated Miniature Rifle Optic or "MRO" made its debut recently and has quickly snatched a share of the market. Designed for close quarters carbine or shotgun use, the sealed, miniature reflex optic is a mere 2.6 inches long and weighs in at just over four ounces.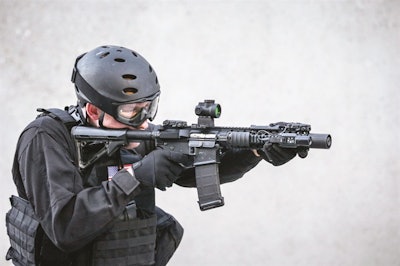 The MRO provides a single 2 MOA red dot as a point of aim and is rated for up to five years of life on a single CR2032 lithium battery. Intensity is adjustable to eight brightness settings and the windage and elevation is easily dialed in via two slotted, flush-mounted turrets. No tiny screw-off caps to lose and no possibility of bumping your dials out of zero. The body of the MRO is a rugged, anodized aluminum, not unlike the bulletproof ACOGs, and features a 25mm objective lens for a wide field of view. The glass in the optic is super clear and makes quick target acquisition a breeze.
I'll admit, having been an Aimpoint disciple for decades, I had set the bar pretty high for the MRO. I had yet to see anything withstand the kind of use and abuse an Aimpoint can stand up to, so if the new Trijicon even came close I was going to be pretty impressed. I reluctantly swapped my Aimpoint T2 for the new MRO and set off for the range to knock it around.
Zeroing took a total of eight rounds; the first four as an index group and the second four to confirm my adjustments. The precision of the turrets was spot on and dialed my group to zero with only a few clicks. Not having to fumble with screw-off caps was nice, too.
After that it was all business as I put the MRO through an equal mix of shooting and abuse. I banged the optic against barriers, dropped it on the deck several times, and got it pretty dirty in the process. A little compressed air blew the glass clear again and it didn't lose a bit of zero.
If the battery lasts half as long as Trijicon's claims I can't find a single reason why this shouldn't find a permanent home on a duty gun. Oh, and the best part? You can pick up a new MRO with a mount for under $600. I suggest you take a good look at the new MRO online at www.trijicon.com.
A.J. George is a patrol sergeant with the Scottsdale (AZ) Police Department who also serves as the SWAT team's crisis negotiation supervisor.