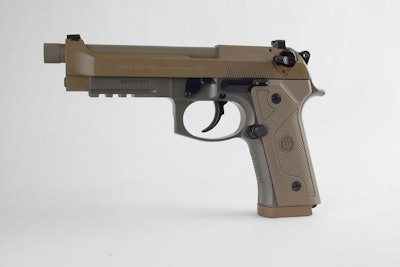 Beretta Defense Technologies' Beretta Model M9A3 semi-automatic pistol is now shipping to law enforcement dealers, law enforcement agencies and is now being offered to military customers worldwide. Built in the U.S., the M9A3 offers advances in pistol design and other enhancements that result in increased modularity, reliability, durability, and ergonomics.
"The M9A3 represents the next generation handgun utilizing the best attributes of the legacy M9 pistol combined with proven COTS modifications that increase performance and durability" stated Gabriele de Plano, Vice President of Military Marketing and Operations for Beretta Defense Technologies. Mr. de Plano added, "The U.S. Army, or any military or law enforcement service using M9s can adopt this weapon today with minimal impact to their training, in-service accessories (holsters, lights, etc.), integrated logistics support plan, and existing parts inventory." Much like its counterpart legacy weapon systems (M2, M4, M16, M240, etc.), the M9A3 is upgraded through material and design changes.
"Combined with the U.S. Army's recent decision to accept new, improved ammunition (specifically jacketed hollow point) for military applications, the M9A3 becomes a more lethal, ready-to-use now solution that is also a fiscally responsible option. Use of improved ammunition in the M9A3 will likely attain the desired lethality and penetration characteristics the U.S. Army is seeking today through its Modular Handgun System program at a fraction of the cost of replacing an entire weapon system, conducting new training and qualification, and buying all new accessories," stated Gabe Bailey, Military Business Development Manager for Beretta Defense Technologies.
The M9A3 maintains 100% commonality with major components of the M9 and 76% commonality of individual parts. It meets 84% of the requirements for the Army's latest Modular Handgun System requirement, and with only a few additional modifications can reach 92%. The M9A3 features a thin grip with a removable, modular wrap-around grip, MIL-STD-1913 accessory rail, removable front and rear tritium sights, extended and threaded barrel for suppressor use, 17-round sand resistant magazine, and numerous improved small components to increase durability and ergonomics, all in an earth tone finish.
Beretta USA offered the M9A3 to the U.S. Army via an ECP in December 2014, prior to that Service's decision to allow use of more lethal 9mm ammunition.
Made in the U.S.A. by an American workforce since 1987, the M9 has been the sidearm of the U.S. Armed Forces for nearly 30 years; serving with U.S. Servicemen and Women in training and combat operations throughout the world. Currently manufactured at Beretta U.S.A.'s Maryland factory and soon to be made at the Company's new Gallatin, Tennessee facility, he M9A3 employs cutting-edge technology in a proven weapon system, delivering 21st century capability and features while increasing usability and reliability.
Firearms bearing the Beretta name have been sold for almost 500 years. Beretta USA Corp. was founded in 1977 in Accokeek, MD, and supplies the standard sidearm to the U.S. Armed Forces. Today, Beretta manufactures, distributes and markets a complete line of firearms, accessories, and apparel. Beretta also owns and operates six retail Beretta Gallery stores worldwide.
Beretta-owned companies employ nearly 600 individuals within the United States with locations in California, Colorado, Maryland, New York, Texas, and Virginia. For additional information visit www.Beretta.com.
About Beretta Defense Technologies
Beretta Defense Technologies (BDT) is the strategic alliance of four Beretta Group defense companies (including Beretta, Benelli, Sako, and Steiner/Steiner eOptics), providing products and services that enable superior performance by the Defense and Law Enforcement communities. State-of-the-art machinery, extensive research and development capabilities, and a long-standing worldwide experience allow BDT products to respond to the ever-changing needs of defense, law enforcement, and security personnel.