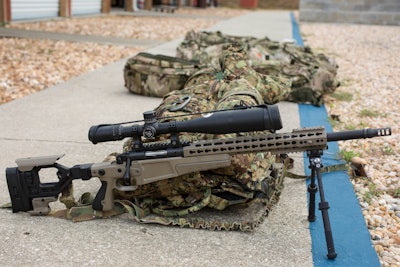 Bergara USA, a division of BPI Outdoors, has delivered the Bergara custom tactical rifles to the Cobb County Police Department S.W.A.T. unit. The contract was secured in May of this year and Bergara began the process of designing and building the custom rifles based on the Cobb County S.W.A.T. unit's requirements.
Officers were eager to get the new rifles out on the range for testing and training and were not disappointed with the performance and accuracy of their new Bergara S.W.A.T. rifles.
Originally based on the Bergara Heavy Tactical rifle, the Cobb County rifles included many customized features and components. The Bergara 22" 416 stainless steel barrel in .308 Winchester has a 1:10 twist with a # 6 contour. Bergara barrels have long been considered the most accurate and technically-advanced barrels by top-tier gun manufacturers, competitive shooters and professionals who rely on Bergara's performance in some of the most demanding scenarios. All of the rifles were fitted with Dead Air™ Armament's Keymount Muzzle Brake.
The Bergara Premium action is made from 4140 CrMo steel and drilled and tapped for 8-40 scope mount threads with Talley 20 MOA Rail for the Nightforce NXS 5.5-22.50 scope and Nightforce Ultralight rings. The fluted bolt body eliminates extra weight and provides a consistent and smooth movement. The floating bolt head ensures a proper alignment in the receiver. The Timney 517 trigger allows for more precise finger positioning and control. The Cobb County rifles are built on an Accuracy International AX chassis stock with Custom Cerakote Finish
The Bergara "Cobb S.W.A.T. Rifle" features are as follows:
Barrel: Bergara 416 SS in .308 1:10 Twist with # 6 Contour
Action: Bergara Premium
Stock: Accuracy International AX
Trigger: Timney 517
Muzzle Brake: Dead Air™ Keymount™
Scope: Nightforce NXS 5.5-22x50
Mounts: Nightforce Ultralight Rings
For more information on Bergara USA, visit www.bergarausa.com.
Bergara USA, headquartered in Duluth, Georgia, combines the world-class rifle barrels manufactured in Bergara, Spain with the high-tech design, materials and functionality in high demand by hunters, target shooters and professionals in the American Market. www.bergarausa.com
Dead Air Armament is a division of Sound Moderation Technologies, a North Carolina company designing, patenting and marketing the next generation in sound suppressor systems for civilian sportsmen, law enforcement, security and the military. Dead Air products are manufactured and sold through BPI Outdoors.