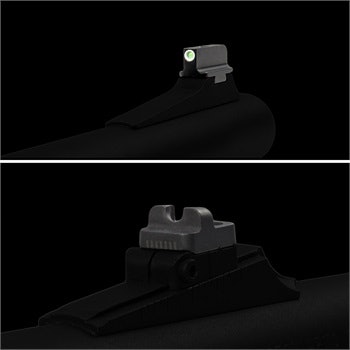 TruGlo is bringing its innovative TFX (Tritium+Fiber-Optic Xtreme) Pro technology to Remington shotguns. As a direct replacement to the factory front sight, TFX Pro offers a bright and reliable front bead. Tritium and fiber-optic elements combine to create a dot that glows in any lighting condition, or even complete darkness.
The tritium and fiber are encased in a virtually indestructible chemical and shock-resistant hermetically sealed capsule. A white Focus Lock ring also adds contrast to the front sight, which enables faster sight acquisition and focus. The rear sight mounts in place of the factory sight, maintaining the full range of elevation and windage adjustment.
Like other sights in TruGlo's Pro family, the rear sight features a U-notch sight design that aids natural eye alignment, promoting increased accuracy. Like TruGlo's pistol sights, the TFX Pro Remington Shotgun Sight is made from CNC-machined steel that is protected by a rust-resistant Fortress Finish.
The TFX Pro Remington Shotgun Sight fits Remington shotgun models with dovetail sight mounts and elevation ramp.
TFX Pro Remington Shotgun Sights are intended for both tactical shotgun operators and hunters, (especially deer/hog hunters), adding accuracy and extended low-light capability to a familiar and trusted shotgun platform. Suggested retail price is $104.
Product Features

Contrasting colored front sight Focus Lock ring for even acquisition.
Quick and accurate U-notch rear sight design
Fully protected TFO technology encapsulated in a chemical-resistant and virtually indestructible capsule
Impervious to oils, chemicals, cleaning solvents, and ultra-sonic cleaning processes
Visibility in all shooting conditions 24/7
Utilizes the best-available Swiss tritium for maximum brightness
Glows in the dark
No batteries, charging, or light exposure required
Front sight Focus Lock for fast and accurate shooting
Concealed fiber cannot be seen by target
Fortress Finish provides a permanent protective coating for maximum protection
Enhances accuracy for shooting slugs, buckshot, or specialty rounds