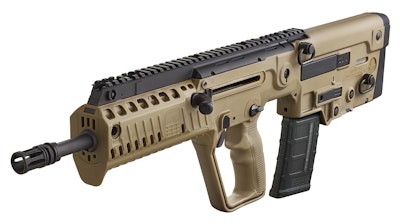 IWI US, Inc., a subsidiary of Israel Weapon Industries (IWI) Ltd., debuted the compact, modern designed TAVOR X95 bullpup at SHOT Show 2016 this week.
"We successfully introduced the X95 select-fire bullpup to our law enforcement customers last year and our civilian customers have been clamoring for us to get them a commercial version," said Michael Kassnar, VP of Sales and Marketing for IWI US. "The X95 is a modern, modular bullpup design emulating all the familiar features of the TAVOR but on steroids."
The TAVOR X95 platform incorporates a tri-rail forearm covered by three removable vented rail covers. The TAVOR-style trigger guard is modular and can easily be converted to a more traditional trigger guard with pistol grip. The charging handle has also been relocated closer to the shooter's center mass, and perhaps the most significant departure from the TAVOR is the ambidextrous magazine release, located to a more traditional AR-15/M16 location on the X95.
Like the TAVOR SAR, 16.5" 5.56 NATO, .300 Blackout and 17" 9mm Luger Parabellum models feature interchangeable cold hammer forged (CHF) barrels manufactured and engineered to IWI's demanding specifications. Conversion kits in .300 Blackout, 5.56 NATO and 9mm will also be available.
The TAVOR X95 in 5.56 NATO and .300 Blackout uses standard AR-15/M16/STANAG magazines and is supplied with one black Magpul Gen III PMAG. Available in Black, Flat Dark Earth, and OD Green. MSRP for the TAVOR X95 is $1,999 and the Conversion Kits are $899 in 5.56 NATO and 9mm and $499 in .300 Blackout.
For more information, visit www.iwi.us.