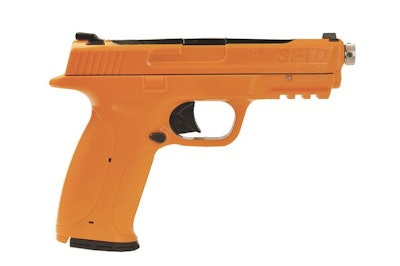 Laser Ammo has announced the latest item in its lineup of professional-grade, laser-training tools. The Advanced Professional Level Laser Training Pistol was co-developed by Laser Ammo and Smart Firearms Training Devices (SFTD) to offer shooters a professional level training pistol with an accidental-discharge sensor to encourage preparedness in safety training.
This robust training tool is modeled after training that law enforcement officers utilize, according to Laser Ammo VP of Business Development and Sales Chen Shoshani. Training with replica pistols can ingrain bad habits of how shooters use their trigger finger, which can cause bodily injury, according to the company.
Laser Ammo, together with SFTD, has built a professional level laser training pistol as an intelligent training tool. Its goal is to build more profound muscle memory and thwart bad habits. The Advanced Training Laser Pistol was designed to set off an audible alarm when the shooter places his or her trigger finger in the trigger guard before he or she is ready to pull the trigger. The gun will distinguish between a real shot (with a shot sound) and a placed finger in the trigger without pulling the trigger (with an alarm sound.)
"This pistol is ideal for anyone who wants to protect themselves from negligent discharges in the future – and it's a method trusted by over 90 major law enforcement departments," he said. "With the Red or IR innovative optic laser from Laser-Ammo, now civilians can experience the same versatile, effective skill-building tool. When you add our new electronic targets or Smokeless Range simulator, there's no better tool when it comes to interactive training," he said. "Laser Ammo is introducing this tool to meet the needs of shooters of all skill levels who want to practice in a variety of scenarios, from home defense and tactical shooting to steel-plate, and professional competition training."
The Training Pistol is durable for hundreds of thousands of shots and features optional key benefits, including a buzzer, night sight (for night drills,) magazine changes, and compatibility with visible red and IR lasers. The pistol distinguishes between a shot sound and an alarm sound with mode option to silence one or both of the alarms.
According to Shoshani, Laser Ammo saw SFTD as one of the leading brands in the law enforcement training sector, with value-added products for learning trigger handling and safety.
"Our partnership with SFTD has allowed us to introduce this truly revolutionary product," Shoshani said. "Accidental discharge is among the most common incidents to happen to shooters today. With this pistol's sensor, you can plan ahead and keep yourself and those around you safe."
One of the distinct advantages of the Training Pistol is the versatile laser options. As the laser is communicating with the gun in a unique patent pending optic way, the shooter can choose between IR and visible laser, request a custom pulse length to meet his or her needs, replace battery when needed, and more. The shooter can even use the same laser (with a different cap) in his or her own firearms, or airsoft. And of course, shooters can use it with all Laser Ammo targets, simulators, and shooting software.
The Laser Training Pistol comes in three available models: "Basic" (no sensor), "Advanced" (sensor included), and "Pro" (sensor, magazine changes, and night sight included.) MSRP ranges from $260 to $395.
For more information visit https://www.laserammo.com/.