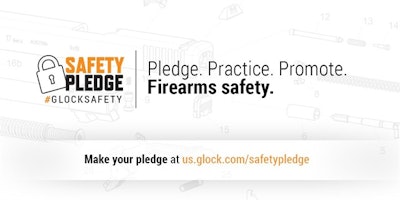 Today, Glock, Inc., launched the annual Glock Safety Pledge Drive with the chance to win a 30th Anniversary pistol by helping to spread the word about firearms safety.
Make the pledge on the Glock Safety page and earn an entry for a custom engraved 30th Anniversary Pistol. Earn more entries by sharing and spreading the word about firearms safety on the Glock Safety Pledge page here https://us.glock.com/safetypledge/.
Glock issued a statement saying the company "actively works year-round to promote firearms safety" across the United States. "We proudly join a community of law enforcement, community leaders, businesses, and the firearms industry to raise public awareness about reducing firearm incidents. The responsibility of practicing and promoting firearms safety is an ongoing and everyday commitment. Firearms safety is intrinsically worked into every facet of the company's ethos, from product design to community outreach," Glock said.
"Everything we do at Glock revolves around safety," said Josh Dorsey, VP of sales at Glock. "From the three safeties built into the product design, to annual donations that support shooting programs that promote safety, to community outreach such as this annual drive. Safety is at the core of all things Glock and it is the responsibility of us all to pledge, practice, and promote firearms safety."
The 2016 Glock Safety Ambassador of the Year award will be announced live on June 30, on the Glock Live original series, "Train with Shane." The recognition is given to the organization or individual that spreads the firearms safety message by driving the most Glock pledges to the site using #GLOCKSafety. Previous Glock Safety Ambassador of the Year awards includes, The Well Armed Woman, in 2016, and the Marietta (GA) Police Department in 2014.
The Glock Safety program consists of three elements:
Pledge. Make your pledge to handle firearms responsibly and commit to firearms safety every day.
Practice. Follow the Four Basic Rules of Firearms Safety and always use protective gear for your eyes and ears while shooting or around shooting.
Promote. Share the rules of firearms safety with your friends and family.
Four Basic Rules of Firearms Safety
Treat all firearms as if they are loaded.
Never point the muzzle at anything you are not willing to destroy.
Keep your finger off the trigger until your sights are on the target and you are ready to fire.
Be sure of your target and what's beyond it.
"Pledge, Practice, and Promote Firearms Safety. Today and every day." – R. Lee Ermey, "The Gunny", Glock spokesperson