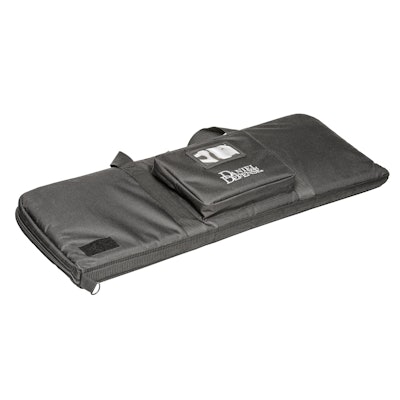 The Daniel Defense Soft Rifle Case was designed with the shooter and his or her equipment in mind. Measuring 38"x14", the case is large enough to accommodate up to an 18-inch barreled AR-15/M4 equipped with an optic and 30-round magazine. The exterior of the case features a clear ID window and a heavy-duty Velcro loop patch panel. Also on the exterior is a separate zipper pouch with individual pockets for storing three additional magazines.
In between the exterior and interior walls of the case is 1-inch-thick padding for providing protection to your firearm and optic. On the interior, one side is lined with heavy-duty Velcro loop and the other with 600-denier fabric. Each rifle case comes with two hold-down straps that attach to the Velcro loop side. These can be positioned anywhere to accommodate your specific firearm. In addition to the hold-down straps, the case also comes with a muzzle protector for protecting the business end of your firearm. The fabric side of the Interior features a clear document pocket. This is perfect for storing your user manuals, targets, NFA documents, etc.
The Daniel Defense Soft Rifle Case secures using heavy-duty zippers and has a padded carry handle for ease of transportation to and from the range. It retails for $69.
For more information visit https://danieldefense.com/.