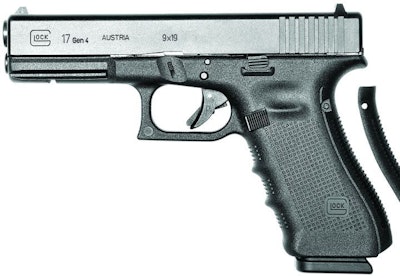 The NYPD's newest officers are hitting the streets with the latest generation of Glock pistols, which have better grips and other features that aid accuracy—but veteran officers are angry that, unlike rookies, they'll have to pony up $525 if they want to upgrade to the better firepower.
"If the Glock 17 can help us shoot better, that increases our safety," one seasoned Brooklyn officer said. "I personally believe the department should help out in paying for the new gun, or, at least, provide an even swap.
The department introduced the Glock G-17, Generation 4, to recruits in the Police Academy in July, and is offering it free to all new classes of recruits.
Glock says the Gen 4 G-17 offers a "revolutionary" design advances over other models because it features a longer barrel, textured grip, customizable back strap, and a reversible, enlarged magazine catch that makes it easier to swap out the magazine.
"It's the ergonomics of this gun . . . that makes this a better gun," said Inspector Raymond Caroli, commander of the NYPD firearms and tactics section.
Some officers are criticizing another aspect of the Glock 17 rollout, noting that the department is purposefully limiting the number of bullets they can carry.
The gun, as designed, can hold 17 rounds in its magazine— two more than the Glock 19. But the NYPD had the manufacturer customize its Glock 17s to carry only 15 rounds
One officer told the New York Post, "Why would you select a firearm that can hold 17 rounds, but then only allow 15 to be carried? It defies common sense. Officers may need those rounds if they find themselves in an active-shooter situation like Dallas or Orlando."