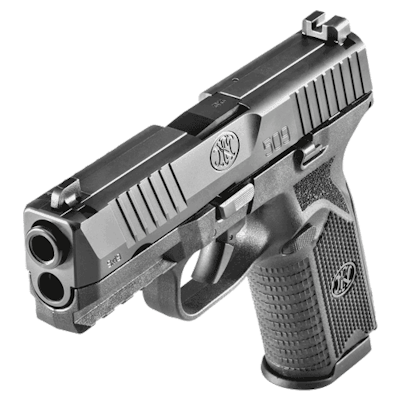 FN America LLC has announced the launch of the FN 509, an all-new 9mm striker-fired pistol. The FN 509 was born out of the company's effort to produce a contender for the U.S. Army's Modular Handgun System (MHS) competition and has been further enhanced to meet the needs of U.S. law enforcement and commercial customers.
"When the requirements for MHS were released, our team of engineers immediately went to work, taking the successful elements of the FNS Compact and further developing those to meet the needs of the U.S. Army's solicitation for a new, full-size pistol," said Mark Cherpes, President and CEO of FN America, LLC. "Between the submission of MHS and the commercial release of the FN 509, we have worked with law enforcement agencies throughout the U.S. and captured on-site feedback that we used to further optimize the pistol to far exceed the expectations of our valued customers."
Built on the proven architecture of the FNS Compact, FN made changes internally and externally to meet the rigorous performance standards of the MHS requirements and further developed the platform into the FN 509 with help from industry experts. Over the course of development, the platform has been tested extensively for reliability, ammunition compatibility, and durability – totaling more than 1 million rounds.
Aesthetic changes to the platform include the aggressive cocking serrations, enhanced grip textures, guarded controls, and recessed target crown on the barrel. Critical internal components were completely redesigned to ensure maximum performance to meet FN's demanding standards. The FN 509 is currently shipping to FN distributors in two commercial SKUs, available at retail in early May, and two law enforcement SKUs, available in early June. Other options like manual safety models will be made available at a future date.
To see the new FN 509 in person, you can visit the FN Booth (#2429) at the 2017 NRA Annual Meetings, held April 28–30, 2017, in Atlanta, GA. To read more on the design and development of the FN 509 or to find a dealer near you, visit fnamerica.com.