Springfield Armory's new 911 .380 ACP pistol is made for everyday carry.
Optimizing the frame-to-slide-to-trigger guard relationship creates distinctive handling characteristics. Many pocket guns can be hard to handle and unpleasant to shoot, discouraging practice at the range and time on the hip. However, the 911 .380 is made to both shoot and feel like a full-size firearm, encouraging both practice and daily carry in the most concealable firearm that Springfield currently offers. It's small frame shooting with the familiarity of a 1911.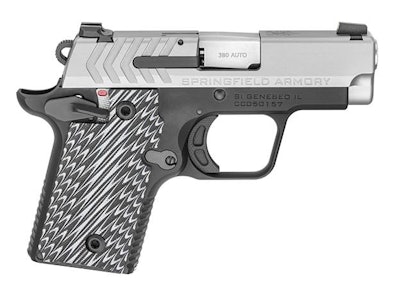 The 911 .380 carries a crisp, short-reset 5-pound trigger with the industry's only G10 Trigger shoe produced by Hogue, according to the company. This quick, positive trigger is made to squeeze off repeat rounds with reassuring precision, a key factor in surviving defensive situations. A loaded chamber indicator and hammer provide peace of mind with both visual and tactile cues allowing for various modes of carry.
Designed for life-saving defensive use at close range, the 911 features an ambidextrous safety and is perfectly matched with an Ameriglo Pro-Glo green tritium front sight inside a yellow luminescent circle, and a tactical rack U-notch rear sight with green tritium inside of white luminescent circles. Sighting is designed to provide fast target acquisition to gain the edge in a defensive encounter. The low-profile design ensures a snag-free draw when milliseconds count.
To keep the gun invisible until needed, the frame measures 5.5 inches long and less than 4 inches high, with a smooth profile that's undetectable under clothing. Springfield's Octo-Grip texturing on the mainspring housing and front strap allows for a very secure grip without tearing up your clothes while carrying concealed. Additionally, the thin-line grips and mainspring housing are made of G10 by Hogue.
Should need arise, the 2.7-inch precision broached barrel gives this small gun solid accuracy at greater than confrontation distance, the company says, while a full-length guide rod and flat wire spring enhance control and soften recoil. A flush 6-round and 7-round extended magazine provides great capacity in such a small platform. Two configurations of the 911 .380 are also offered with integrated green Viridian laser grips to make target acquisition all but effortless.
The new 911 is crafted of 7075 T6 anodized hard-coat aluminum, the same material used in combat-ready firearms like Springfield's renowned SAINT AR-15 rifles and pistols. A brushed-satin, matte-finish stainless steel or black Nitride slide completes the picture. The new Springfield Armory 911 is an ideal carry pistol or backup gun, with the features, quickness, and reliability to save lives.
"With such great advances made in modern defense ammunition, the .380 has become a seriously viable defensive platform ," says Springfield Armory CEO Dennis Reese, "and our customers deserve a pistol that makes the most of it. Once you try it, you'll be as convinced as we are that this is the best .380 pistol choice available."
For more information about the new Springfield Armory 911 .380 pistol, or other Springfield firearms, visit www.springfield-armory.com.