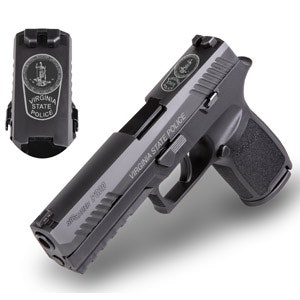 SIG Sauer Inc. announced that the Virginia State Police has officially selected the SIG Sauer P320 Pistol as their official duty sidearm. The Virginia State Police is comprised of three bureaus, with over 2,100 sworn personnel, providing exemplary service to the public, and other law enforcement and criminal justice agencies, throughout the Commonwealth of Virginia.
"We are proud to earn the confidence of the Virginia State Police through their selection of the SIG Sauer P320 as their official duty pistol," began Tom Jankiewicz, Executive Vice President, Law Enforcement Sales, SIG Sauer Inc. "Due to the modularity of the P320 the Virginia State Police now have the ability to easily customize their standard issue firearm for grip preference, without ever compromising the superior SIG Sauer accuracy, reliability, and safety features they have come to rely on."
The P320 is a modular, striker-fired pistol available in full-size, carry, compact, and subcompact sizing. The serialized trigger group makes the P320 adaptable to multiple caliber, size, and grip options. The P320 is available in 9mm, .357SIG, 40S&W, and .45ACP, with a choice of contrast, or SIGLITE Night Sights. SIG says the intuitive 3-point takedown requires no trigger pull for disassembly, and safety features include a striker safety, disconnect safety, and optional manual safety.
The Virginia State Police will begin instruction and training on their SIG Sauer P320 pistols and officially place them into service with the Virginia State Troopers as their official duty sidearm in 2019.
"It's a tremendous honor for all of us here at SIG Sauer to be given the opportunity to provide the men and women of the Virginia State Police with this particular firearm. We look forward to continuing our relationship with this prestigious law enforcement agency and supporting their mission," concluded Jankiewicz.