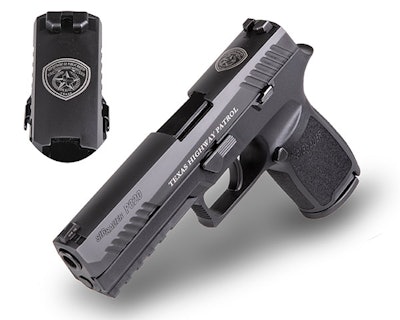 The Texas Department of Public Safety has selected the SIG Sauer P320 as its official service firearm throughout its divisions.
The Texas DPS is the statewide agency responsible for law enforcement and vehicle registration headquartered in Austin. It is one of the largest law enforcement agencies in the country and is comprised of 13 divisions including the Texas Highway Patrol, and the Texas Rangers.
"We are proud to continue our long-standing relationship with the Texas Department of Public Safety and honored that they have chosen the SIG Sauer P320 as their official service firearm," says Tom Jankiewicz, EVP of law enforcement sales for SIG Sauer. "The modularity and ability to customize the P320 pistol, combined with the ultimate in reliability and accuracy, made it the right choice for the diverse needs, across all divisions, for the Texas Department of Safety."
The P320 is a modular, striker-fired pistol available in full-size, carry, compact, and subcompact versions. The serialized trigger group makes the P320 adaptable to multiple caliber, size, and grip options. The P320 is available in 9mm, .357SIG, .40S&W, and .45ACP, with a choice of contrast, or SIGLite Night Sights. The 3-point takedown requires no trigger pull for disassembly, and safety features include a striker safety, disconnect safety, and optional manual safety.
Texas DPS will acquire 4,000 P320 pistols for official service use throughout the Highway Patrol, Criminal Investigations Divisions (CID), Aircraft Division, Executive Protection Bureau, Intelligence and Counterterrorism, Texas Rangers, SWAT, and Special Operations Group.
"To earn the confidence of such a highly revered law enforcement agency is truly a privilege for all of us within the SIG Sauer organization. We value and appreciate the opportunity to assist the men and women of the Texas Department of Public Safety in carrying out its mission—to protect and serve the citizens of Texas," Jankiewicz says.