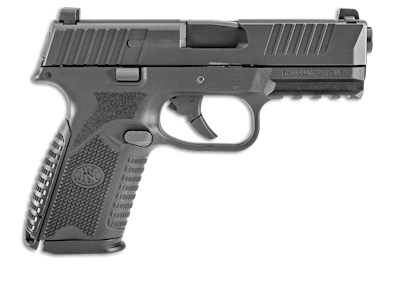 FN America has released the FN 509 Midsize, a new carry option in the FN 509 series of striker-fired pistols. Additionally, the FN 509 Tactical is now available in a matte black finish.
"What truly sets FN products apart is the quality. When customers pick up the FN 509 in comparison to other striker-fired 9mm's, they instantly notice the ergonomics, premium finishes and price point that is competitive," says Chris Cole, VP of sales and marketing for FN America. "With the FN 509 Midsize and FN 509 Tactical in black, customers will now have four additional FN options in the 9mm striker-fired category to choose from. We believe that options are always a good thing and we're proud to provide them to our loyal customer base."
The FN 509 Midsize pistol is chambered in 9mm and features a four-inch slide and barrel, a frame with shortened grip, and 15- or 10-round magazine capacity with backward compatibility to higher capacity FN 509 magazines. The pistol also features various upgrades, including new sculpting around the magazine release for easier activation, a flatter-faced trigger for a more controlled trigger press, and improved slide stop lever and texturing.
The FN 509 Tactical 9mm striker-fired pistol, is now available in a matte black finish. The pistol features the company's patent-pending Low-Profile Optics Mounting System that enables the platform to accept more than 10 commercially available miniature red dot optics that co-witness with the suppressor-height night sights and remain adaptable to future optics releases with no requirement of direct milling of the slide.
The slide cap, for use when not shooting with an optic, has raised sight wings that protect iron sight alignment if the pistol is dropped or jostled, and provides a textured ramp for racking the slide against a belt loop, pant pocket, or boot. The barrel is an FN-signature 4.5-inch, cold hammer-forged, stainless-steel barrel with target crown threads that accept the bulk of 9mm suppressors available and thread cap with integrated O-ring to prevent loosening during use. The 24-round magazines, nearly identical in length to the pistol's slide, maximize ammunition capacity without impacting carry convenience.
Both new pistols are available for purchase today through FN-authorized retailers and will be on display at the company's 2019 SHOT Show Booth, #13662, in Las Vegas, Nevada, Jan. 22-25.
For more information about the FN 509 series of pistols or other FN products, please visit www.fnamerica.com or follow FN on Facebook, Twitter or Instagram.