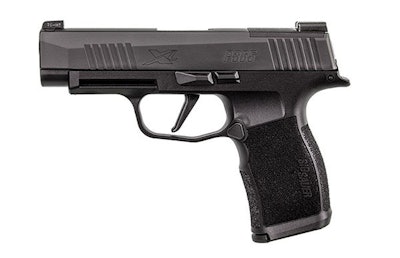 SIG Sauer Inc., has introduced the P365 XL pistol. The company says it created it by combining the capacity, control, and shootability of a full-size pistol, with the concealability of a micro-compact.
"When the P365 was introduced it took the market by storm, and was a game-changer when it comes to Everyday Carry, by delivering unprecedented capacity in a micro-compact size. The P365 instantaneously became the top-selling pistol, and one of the most award-winning pistols in history," began Tom Taylor, Chief Marketing Officer and Executive Vice President, Commercial Sales, SIG Sauer Inc. "With the P365 XL we have once again redefined Everyday Carry by delivering 12+1 capacity, or 15+1 capacity, in a highly concealable, compact profile while bringing many of the XSeries features to the P365 that are extremely popular and sought after by consumers."
The SIG Sauer P365 XL is a 9mm striker-fired pistol, featuring the XSeries P365 grip module with an integrated carry magwell and extended beavertail, a flat trigger with a 90-degree break, and a 3.7-inch barrel for increased accuracy while retaining concealability. The P365 XL features an optics-ready slide, compatible with the new SIG Sauer Electro-Optics RomeoZero and RMSc Optics; comes equipped with X-Ray3 Day/Night sights; and ships with two 12-round magazines (15-round magazines available separately.)
The SIG Sauer P365 XL pistol is now shipping.
For more information about the company and product line, visit sigsauer.com.