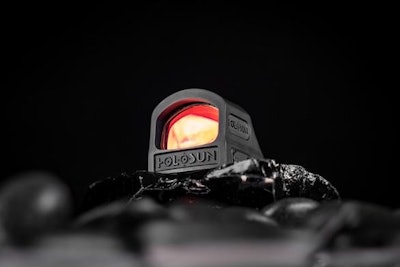 Holosun has released the latest in its lineup of premium micro red dot optics, the HE508T-RD. The HE508T is a pistol-sized optic protected by a CNC machined titanium housing. Holosun says its open frame design and ultra-clear glass give the HE508T a superior sight picture, and the latest Holosun technologies make this optic ideal for any situation.
Leading the Holosun lineup for pistol-sized optics, the HE508T is packed with proprietary technology to help keep its users shooting in any environment. The HE508T's titanium housing makes it durable, corrosion resistant, and lightweight while Solar FailSafe and Shake Awake technologies keep it running, no matter what. Additionally, the HE508T has an IPX8 waterproof rating which means that the optic can safely operate in wet climates, in the rain, and even when submerged in water.
Holosun proudly boasts a battery life of up to 100,000 hours, or 10 years, on the HE508T. Battery life is critical, so Holosun developed Shake Awake technology that helps users preserve battery life by detecting motion, and a lack of motion, in the optic. When no motion is detected, the unit will automatically power down the L.E.D. to conserve power. Once movement resumes, the optic immediately restores power to the L.E.D. so that the user never has to guess or wonder if their optic is active. If the unexpected should occur and the battery does fail, Solar FailSafe uses a small solar panel mounted on top of the HE508T to collect ambient light to provide illumination for red dot. The brightness of the L.E.D. varies depending on the amount of light in the environment so users will never have a dim red dot in daylight or one that's too bright indoors.
According to the company, the HE508T is tough and reliable as well as customizable for any application using the included Multiple Reticle System. Holosun has developed this technology to allow users to choose between a 2MOA dot, a 32MOA ring, or both so that this micro red dot can be used on different weapon systems and adjusted to user preference for faster and more reliable target acquisition. While there are multiple reticles there is only one L.E.D.. This means that the HE508T only needs to be zeroed once, which saves users setup time.
The HE508T is available today at authorized Holosun retailers and through the company's website https://www.holosun.com/ with an MSRP of $411.75. The HE508T-RD features a red L.E.D., but future models will include a green L.E.D.