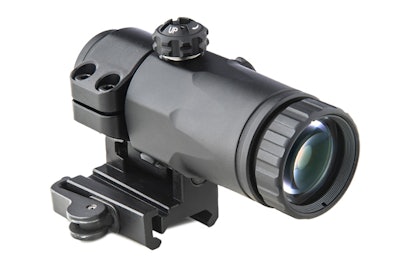 Meprolight, a leader in a variety of optic solutions from electro-optics sights, thermal sights and devices, to self-illuminated sights, and innovative pistol sights, will be exhibiting at the National Association of Sporting Goods Wholesalers (NASGW) Expo Oct. 22–25, 2019 in Orlando, FL, at booth #523.
Meprolight, a renowned supplier for militaries and law enforcement agencies around the globe, opened its U.S. division in early 2019 to facilitate a closer relationship with U.S. distributors and retailers with a goal of reaching the U.S. commercial market. Meprolight's products offer the American consumer some of the latest innovations in electro-optic sight systems for handguns and long guns, whether for target shooting, hunting, or home defense.
Meprolight says all of its products offer energy-efficiency, large window displays, compact housing systems, easy-to-use controls, multiple reticle options, quick detach mechanisms and superior clarity and performance in any environmental condition.
Meprolight's Mepro Foresight is a distinctive augmented weapon sight capable of projecting essential tactical data right on the transparent optical lens in real-time. Utilizing Bluetooth interface to connect with the Foresight's mobile app for Android or iPhone, the user can store up to 10 zeroing firearms profiles or user profiles, so the sight can be removed and replaced without ever having to re-zero. It also has access to a large database of reticles for tactical scenarios and to receive firmware updates and new features, as they are released to the market.
Additionally, Meprolight will have the Mepro RDS Pro V.2 on hand at the show, as well as the Mepro MicroRDS. Both electro-optical red-dot sights are the latest generation with the RDS Pro V.2 featuring an optimized combination, more brightness positions (16 brightness levels compare to four brightness levels in its predecessor), and supports both red and green aiming patterns and multiple selections of aiming patterns all through a large crystal clear, transparent display window.
The MicroRDS is a small, rugged, energy-efficient, electro-optical red-dot sight designed for handguns, shotguns, and rifles with a large display window and a clearly defined red dot for fast target acquisition with both eyes open. The MicroRDS Kit includes a patent-pending dovetail adapter with a quick detach mechanism that allows mounting and dismounting the MicroRDS on the gun with a click of a finger. The adapter includes high-quality Meprolight Night Sights to allow accurate and fast shooting under any lighting conditions when the MicroRDS Optic is removed.
Meprolight's self-illuminated sight offerings include the FT Bullseye, similar to an optical sight, but in a small, low profile with an aim point in the form of an illuminated dot and circle bullseye.
The Mepro MX3 T, the new magnifying scope with an integrated side flip adaptor and 3X magnification, is designed for the distance shooter. Also new is the Mepro FT Single Dot and FT Two Dot, fiber-tritium optimized for day and night brightness on a super-compact, low-profile platform.
Meprolight's array of sight options for civilian, law enforcement, and military are all designed to meet the high standards of military use. The company says therefore, customers can count on Meprolight products as exceeding traditional standards of durability, reliability, clarity, and consistent performance.
You can stay current with Meprolight USA at www.meprolight.com.