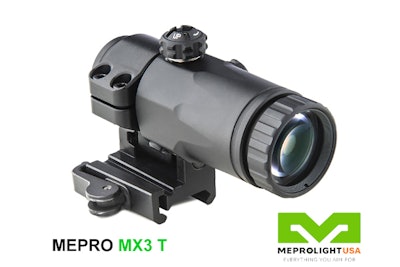 Meprolight, known for its variety of optic solutions from electro-optics sights, thermal sights and devices, to self-illuminated sights and pistol sights, has announced the Mepro MX3 T, a compact, magnifying scope with an integrated side flip adaptor.
The Mepro MX3 T is designed to give CQB optics an option to sight at greater distances, quickly and easily. The compact and lightweight magnifier attaches behind a reflex sight on the Picatinny rail. The operator can flip the scope to its resting position and out of the way of the reflex sight. When the situation calls for a long shot, the operator simply flips the scope back into position to engage the target without having to re-zero the weapon. It's the Mepro MX3 T integrated, quick-release, pull-back adapter that allows the scope to ride to the side when not in operation. It is ambidextrous and can be configured for right- or left-hand users.
The Mepro MX3 T is compatible with Meprolight optical weapon sights and other manufacturers' sights. According to the company, the new scope's wide field of view (FOV) enables the operator to use both eyes and acquire targets faster, while easy-to-manipulate elevation and windage dials allow the user to precisely adjust the scope, increasing the overall effective range of the reflex sight.
To learn more about the new Meprolight MX3 T Magnifier Scope, watch this video: https://youtu.be/YL0FjLISxAI
For more information, visit www.meprolight.com.