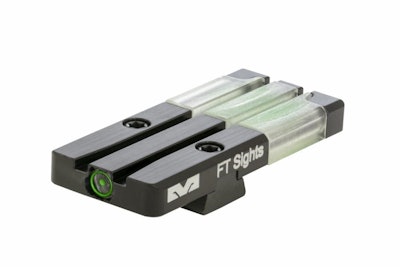 Meprolight, a world leader in a variety of optic solutions from electro-optics sights, thermal sights and devices, to self-illuminated sights, and innovative pistol sights, has put a new spin on the traditional pistol front and rear sight system with the Mepro FT Bullseye. Three new FT Bullseye sights will be available in December 2019: Glock 42/43, SIG Sauer P365 (not SAS version), and the new FT Bullseye sight for the CZ P10.
Based on an optical illumination patent, Meprolight designed the FT Bullseye to incorporate all the most sought-after features of pistol sights into this one, low-profile optical pistol sight. Using the popular red dot sight concept as the basis of the FT Bullseye, the engineers designed the sight to provide an aim point in the form of an illuminated dot and circle bullseye. The user just needs to line up the dot within the circle for fast, accurate target acquisition, according to the company.
Meprolight says the fiber-optic Tritium provides the user with superior visibility day, night, and low-light conditions and is guaranteed for 12 years, and with no batteries to insert, no switches to turn on or off, the Mepro FT Bullseye is always on and ready.
For new shooters and shooters with less than perfect eyesight, the FT Bullseye takes all the stress out of lining up front and rear sights or placing a front sight dot in a rear V-sight. According to the company, simply put the illuminated dot in the center of the circle and your aim is true, instantly and accurately, every time with no front sight needed. The FT Bullseye sight is a perfect choice for concealed carry pistols due to its very small size and super quick target acquisition. The FT Bullseye sight is also a great alternative to bulky optical sights that require batteries or switching on and off and won't fit in a holster.
Its low-profile design not only aids in fast and intuitive target recognition, it requires no batteries or switches and it also fits on most existing holsters.
Lightweight and easy to install in the rear sight dovetail location on the pistol slide, the Mepro FT Bullseye is manufactured to withstand heavy and constant recoil. It is available for a variety of popular brands such as: CZ, GLOCK, H&K, IWI, Kriss, SIG Sauer, Smith & Wesson, and Springfield. The Mepro FT Bullseye has an MSRP of $160.
Meprolight's array of sight options for civilian, law enforcement, and military are all designed to meet the high standards of military use, and are therefore made to exceed traditional standards of durability, reliability, clarity, and consistent performance. You can visit Meprolight USA at the 2020 SHOT Show at booth #15138, January 21-24, 2020 in Las Vegas.
For more information about Meprolight USA, visit www.meprolight.com.