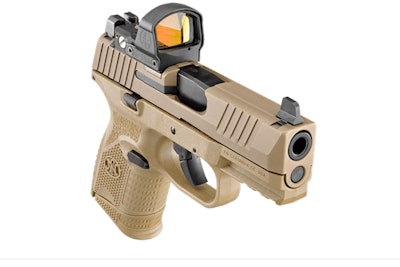 FN America LLC has announced the release of the smallest addition to the FN 509 family of pistols, the FN 509 Compact MRD, an optics-ready compact pistol featuring the company's patented FN Low-Profile Optics-Mounting System, further expanding the optics-ready FN 509 models to four.
The FN 509 Compact MRD is chambered in 9mm and is striker-fired. It features a 3.7-inch barrel and compact slide, and is available in both black and flat dark earth (FDE) finishes. FN says the patented optics mounting system allows for a low-profile, direct mount through a carefully developed plate system that perfectly positions the optic so that the focal point allows for a low-profile mount and co-witness with the all-black iron sights that minimize interference with the optic.
The frame, reduced in overall size for concealability, features a MIL-STD 1913 Picatinny rail that accepts most compact pistol lights, improved controls to aid in manipulation, improved texturing on the two included backstraps for better recoil management, and a new flatter faced trigger allowing for more controllable trigger press and cleaner break.
Each pistol ships in a branded soft-sided, zippered case with FN Low-Profile Optics-Mounting System plate kit, one 12-round magazine with pinky extender, and one 15-round magazine with grip sleeve or in an all 10-round magazine configuration for states with magazine capacity restrictions. The FN 509 Compact MRD also has the capability to accept all higher capacity FN 509 magazines with use of a sleeve. Manufacturer's suggested retail price of the FN 509 Compact MRD pistol is $799.00 and is available to purchase through authorized retailers.
To learn more about the all-new FN 509 Compact MRD optics-ready pistol, visit fnamerica.com.