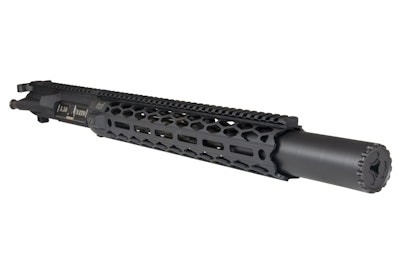 Due to popular demand, YHM (Yankee Hill Machine Co.) is offering its new Turbo Integral Suppressor System. The Turbo Integral comes with an integrated Turbo T2 suppressor which is pinned and welded to a 10.5-inch 5.56mm barrel.
With a combined barrel/suppressor length of just over 16 inches, this system only requires a single tax stamp to be purchased.
Included is the company's lightweight Rifle Length Black Diamond M-LOK Handguard, YHM Mil-Spec A3 upper, bolt carrier group, and a specially designed gas block to reduce blowback and cyclic rates.
For more information, visit https://yhm.net/5-56mm-turbo-integral.html.