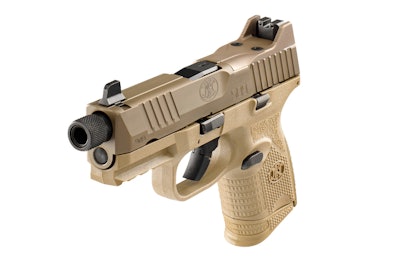 FN America, LLC has announced the release of the FN 509 Compact Tactical. The company says the new handgun is the smallest and most concealable 9mm tactical pistol available on the market.
The FN 509 Compact Tactical, which is available in both black and FN-signature flat dark earth (FDE), can be easily deployed as an everyday carry with the standard 12- or 15-round magazines or on the range with an extended 24-round magazine.
The 4.3-inch cold hammer-forged threaded barrel makes the new pistol compatible with today's most popular aftermarket accessories like compensators or suppressors. The 509 Compact Tactical also features the FN Low-Profile Optics-Mounting System, capable of accepting more than 10 miniature red dot sights.
The compact frame features the FN 509-signature enhanced grip texturing for secure hold, a MIL-STD 1913 picatinny rail that is compatible with most compact pistol lights, and interchangeable backstraps for a customized fit.
Additional features like the suppressor-height night sights aid in co-witness of the miniature red dot and while the optics system is not in use, the protective slide cap provides a serrated surface for racking the slide from any surface and ensures iron sight alignment.
The pistol ships in an FN-branded soft-sided case with the optics-mounting kit, one each of the 12-, 15-, and 24-round capacity magazines with the appropriate grip sleeves or in a state-compliant configuration with 10-round magazines.
FN says the FN 509 is its most tested pistol platform to-date with more than 1 million rounds fired during development.
For more information, go to www.fnamerica.com.