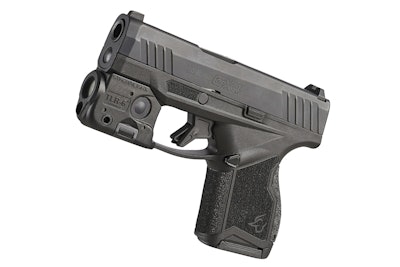 Streamlight Inc., a leading provider of high-performance lighting and weapon light/laser sighting devices, introduced a new laser model of its ultra-compact TLR-6 rail-mounted weapon light to fit the best-selling Taurus GX4 micro-compact handgun. The new light, which features an integrated red aiming laser, joins a growing family of laser-equipped TLR-6 weapon lights that fit sub-compact handguns.
"Like other TLR-6 weapon lights, this newest model is designed to maximize visibility and targeting capability in a variety of concealed carry, home defense and tactical situations," said Streamlight President and CEO Ray Sharrah. "It securely attaches to the rail and trigger guard of the Taurus GX4. It offers targeted bright light, and with its powerful red aiming laser, enables users to more readily identify a potential threat before taking action."
This new model uses a bright white LED to deliver 100 lumens and 2,000 candela over a beam distance of 89 meters, and features a parabolic reflector that produces a balance of beam and peripheral illumination. The light also is equipped with a 640-660nm red laser. It offers three lighting modes: LED only, LED/laser and laser only, with operating run times of one hour for LED only and LED/laser modes, and 11 hours for the laser only mode.
The TLR-6 for the Taurus GX4 is powered by two 3-volt CR-1/3N lithium coin batteries. It features an integrated battery door that permits batteries to be replaced while the light remains mounted on the gun, eliminating the need to re-sight the laser after a battery change. The light is equipped with left- and right-handed switches for ambidextrous operation.
The new model is manufactured from durable, impact-resistant engineered polymer. It measures 2.5 inches long and weighs 1.12 ounces.
The TLR-6 for the Taurus GX4 has an MSRP of $187.43. It comes with Streamlight's Limited Lifetime Warranty.