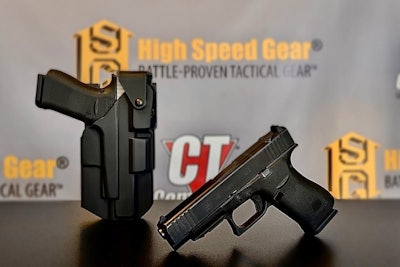 Comp-Tac Holsters has introduced multiple new holsters for the Glock 48, including a Level III CT3 duty holster specifically designed for law enforcement.
The CT3 level III holster is designed to help the wearer achieve a master grip before drawing their weapon. A combination of an autolocking ejection port lock and an intuitive self-activated hood system, makes this one of the fastest level three holsters available on the market today, according to Comp-Tac. The CT3 offers multiple mounting options, catering to those who may want to choose a traditional belt mount or integrated drop offset.
The Glock 48 is a compact handgun designed for concealed carry, and it can be used for duty. It combines a compact-size grip length and built-in beaver tail for a comfortable and balanced product ideal for a wide range of users. The Glock 48 has also been utilized by law enforcement officers who may be more comfortable with the slim frame and slide on the gun.
"We are proud to announce the first Level III duty holster for the Glock 48," said Truett Whitt, sales manager at Comp-Tac Holsters. "This firearm is a new product option with a multitude of uses. Law enforcement officers are choosing this firearm as it provides comfort and confidence in use. Aside from our CT3 Level III holster being a great option for duty carry with this firearm, we're also catering to the concealed carry market by offering a wide range of other holsters for this gun."
Comp-Tac Holsters and High Speed Gear will be at SHOT Show in booth 75707, displaying their products, including the CT3 Level III Holster in the Glock 48 configuration.
In addition to the CT3, the following Comp-Tac holsters are also available for the Glock 48:
• MTAC Holster
• Spartan Holster
• International Holster
• Infidel Max Holster
• Infidel Ultra Max Holster
• Single Mag Pouch
• Dual Concealment Holster
• Warrior Holster
• eV2 Holster
• eV2 Max Holster
• eV2 Infidel Holster
• Sport Tac Holster
• CT2-H Holster
About High Speed Gear
High Speed Gear is dedicated to building the best 100% American-made, battle-proven tactical gear. The company's products are designed for the highest level of comfort, functionality and versatility. "Satisfaction is guaranteed for all our customers, whether military, law enforcement, or responsibly-armed citizens. Our products are user driven and are designed based on the operational experiences of a wide variety of end users," the company says.
About Comp-Tac Holsters
Comp-Tac Holsters is devoted to designing and manufacturing the highest quality concealed carry, competition, tactical holsters and related accessories on the market. "Comp-Tac products offer options that make it easy and comfortable to carry a firearm for all our customers: law enforcement, military, shooting sports enthusiasts and responsibly armed citizens. We build with the customer in mind, ensuring speed of manufacturing, quality of product, competitive pricing and superior customer service to support the desire to take responsibility for personal safety, security and recreational firearm use," the company says.