Axon Enterprise Inc. has announced the TASER 10 energy weapon. TASER 10 is the first key innovation unveiled by Axon following a recent announcement of a moonshot goal to cut gun-related deaths between police and the public by 50% in the next decade, the company says.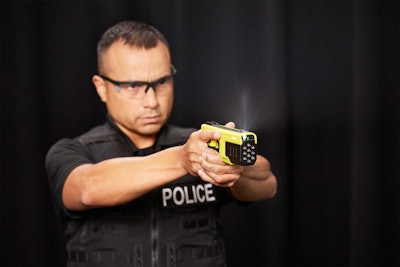 In line with its focus to provide safer, more reliable tools that can stop threats, Axon has an ongoing commitment to continually improve its TASER energy weapons. In 2020, the company accelerated investments in advancing less-lethal technology to better serve public safety and communities. Key new advancements in the TASER 10 include:
* A longer range of up to 45 feet, compared with only 25 feet previously, creating more time and space for decision-making and reducing risk for everyone involved.
* The ability to deploy up to 10 probes compared with four probes previously, which only provided one or two opportunities to be effective. The device also has a differing tone when a good connection is made, alerting the officer.
* Individually targeted probes enabling the user to create their own spread, compared with the previous need to deploy two probes simultaneously at a predefined angle. This drastically improves accuracy and effectiveness, expanding the scenarios in which it can be used.
* New de-escalation features, including a 1,000-lumen pulsing light, loud audible alerts and LASER painting to warn a subject to comply before having to deploy probes.
"As technology leaders in public safety, we have a responsibility to identify every possible way we can give officers better tools to reduce officer-involved shootings," said Axon CEO Rick Smith. "We have worked tirelessly to develop TASER 10 because we know that public safety needs better ways to stop imminent threats and protect their communities and themselves without lethal force. TASER 10 ushers in the potential for a less-lethal future, and we are confident it will be a key factor in helping to cut gun-related deaths between police and the public by 50% in the next 10 years."
Axon said, "Today, we know that ineffective TASER deployments can result in an escalation to lethal force and that over 80% of officer-involved shootings occur within a 40-foot range. TASER 10 provides almost double the range of our previous energy weapons, with a maximum distance to reach a subject of 45 feet (13.7 meters), providing more time and space to de-escalate and resolve conflicts."
The TASER 10 provides more opportunities than other less-lethal options to immediately stop a threat without needing to reload. The TASER 10 is a two-probe-connect energy weapon. The first trigger pull discharges a single probe without electrical output and the second trigger pull discharges a second probe to create neuromuscular incapacitation (NMI). The device provides additional opportunities to obtain effective NMI, with the subsequent trigger pulls if the previous probes did not have proper attainment.
Leveraging smart technology, TASER 10 avoids delivering more charge than necessary, the company says. Regardless of how many probes make a connection, the device will only deliver current to the best four connections. Additionally, the TASER 10 has a reduced voltage of approximately 1,000 volts, compared with the previous 50,000 volts with the TASER 7.
TASER 10's additional capabilities make it more than just an energy weapon. It integrates with the Axon suite of products including:
* Axon Evidence, which allows agencies to manage pulse graphs, weapons activity, event logs and firing logs in the same cloud-hosted software system where they can store body camera video and other digital evidence.
* Axon VR, which provides innovative training that allows officers to gain confidence and accuracy, enhancing their proficiency in deploying TASER energy weapons, as well as helping officers to improve use-of-force decision-making and practice de-escalation techniques.
* The Axon Network, which seamlessly connects TASER 10 to Axon body-worn cameras and in-car cameras, as well as the Axon Respond real-time operations platform and the Axon Records productivity software suite. These additional capabilities ensure that agencies never miss a critical moment on their cameras and increase visibility to surface insights for continuous improvement. This supports greater transparency and accountability and informs policy for the future. The Axon network also helps officers save time on writing reports so they can spend more time protecting their communities.
* Smart holster technology. TASER 10 has an onboard sensor that pairs with certified holsters, allowing the TASER 10 to detect when it has been removed from a holster. TASER 10 logs the de-holstering event and emits a wireless signal to alert local body cameras to begin recording.
Axon performed multi-phase testing of the TASER 10 to ensure the weapon meets expectations for both safety and effectiveness. This included independent cardiac safety testing conducted at The Johns Hopkins University School of Medicine, as well as physiologic and metabolic testing, and probe wound profile testing conducted under the direction of Axon's medical director and Science and Medical Advisory Board (SMAB). All tests confirmed that the TASER 10 has a safety profile comparable to or better than previous TASER energy weapons. Today, TASER energy weapons are the most studied use-of-force tool available to law enforcement. Learn more about the safety of TASER energy weapons here.
Axon also worked with several public safety agencies to evaluate TASER 10 prior to launch. This enabled Axon to gather data and feedback directly from trusted partners and translate those findings to best practices for future use with agencies and forces around the world.
"As public servants, our goal is never to bring harm to anyone in a difficult situation," said Sheriff Dennis Lemma of the Seminole County (FL) Sheriff's Office, a key agency in Axon's TASER 10 evaluation program. "The TASER 10 adds a new level of confidence for our deputies when intervention is required to ensure that they can de-escalate with accuracy and enhanced safety. I believe that the TASER 10 will play a key role in reducing situations where our deputies may otherwise have to resort to lethal options, and we believe that the TASER 10 will serve as a key tool to continue to keep our communities safe."
During the design phase of the TASER 10, Axon worked directly with law enforcement, community members and Axon's Ethics and Equity Advisory Council (EEAC), to obtain feedback that informed these new capabilities, taking ideas from real-life experiences into development.
"The key is to find common ground for both community members and public servants. It's not enough to be safe, we also need people to feel safe in their communities and where they serve. This is why we enlisted feedback from both the community and public safety in the design of the TASER 10," said Regina Holloway, vice president of Global Strategic Community Impact at Axon. "The result is an energy weapon that can provide up to 10 opportunities to protect a life. At the end of the day, we know that community members and officers want to make it home safe. By improving the effectiveness of TASER technology, we can help make sure that happens."