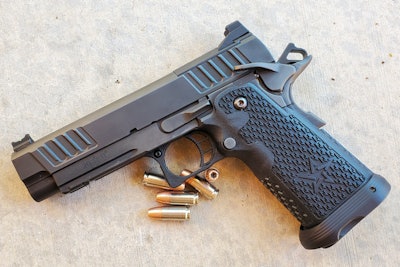 Times sure have changed. Some 110 years ago, if an officer was fortunate enough to have transportation, it may well have been a horse. Body armor? No. Not in any form that was wearable for a shift. No radio, either. An officer's call for assistance may have been made via a telephone call box. One thing that hasn't changed is some officers' preferred choice of handgun: the Model 1911. Also known as the Government Model.
The Model 1911 has served the American law enforcer nearly since its inception. It helped tame the mean streets of Chicago during the Roaring Twenties and helped Hoover's G Men take down many notorious gangsters. Famous Texas Ranger Frank Hamer was known to carry a 1911 while on the hunt for Bonnie and Clyde. In more modern times, the 1911 has been used by numerous tactical teams and is still carried today by some officers, albeit in fewer numbers than in years previous.
That's not to say that the 1911 hasn't evolved. Sights are better nowadays and ergonomics are improved. Modern features such as accessory rails and optics mounting plates have been added. Another change is the switch from a single stack magazine holding seven or eight rounds to a double stack magazine holding twice that number. Double stack 1911s have been made by several companies with Para Ordnance and STI being particularly well known in the "wide body" 1911 market. The FBI's Hostage Rescue Team used the Para Ordnance P14 for a time as a standard duty handgun. STI, with its 2011—a play on 1911—was probably the best-known; having dominated competition shooting circuits.
FROM STI TO STACCATO
STI has recently come under new ownership and has undergone several changes. This includes changing the name from STI to Staccato. Along with the new name comes a shift in business priorities. STI primarily sold frames and parts to custom gunsmiths but Staccato has moved away from the parts market. The focus now is on making complete guns for law enforcement, lawful concealed carry, and competition markets. Staccato has retained the 2011 label and notes that the 2011 moniker is only correctly applied to pistols made by STI or Staccato.
Staccato's primary duty 2011 is the Staccato P. It is available in steel or aluminum frame versions and with or without a slide machined to accept optic plates. Plates are available from Staccato or directly from Dawson Precision, which is making plates as OEM for Staccato.
FEATURES AND OPTIONS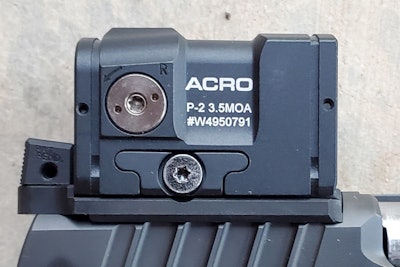 The Staccato P evaluated here is the Optic Ready model with steel frame and was tested using the Leupold Deltapoint Pro as well as the Aimpoint ACRO P-2. The ACRO P-2 is one of several closed emitter optics on the market. This means that the unit is closed to the outside elements and should be less prone to fouling from dust, sand, moisture, and other materials. While not an absolute necessity, agencies wishing to purchase or approve pistol optics should certainly consider a closed emiiter system. One caveat on the ACRO. It is more rectangular than many of its rivals and may have holster compatibility issues. For example, the Staccato P with Leupold Deltapoint attached fit Blackhawk's Level 3 T-Series without issue, but the holster's optic dust cover would not close over the ACRO.
The Staccato P uses a 4.4-inch barrel that is a bull configuration, meaning the barrel interfaces directly to the slide without a barrel bushing. Staccato is using a tool-less guide rod in these guns that allows the recoil spring to be captured during disassembly. With tension off the spring, taking the gun apart for routine maintenance is greatly simplified.
The pistol ships with a 13-pound recoil spring installed. Eleven-pound and fifteen-pound recoil springs are also included. The 15-pound is probably best for hotter "+P" duty ammo. Conversely, the 11-pound is likely best when using light target or practice ammo. For general use with standard pressure ammo, the installed 13-pound spring is acceptable.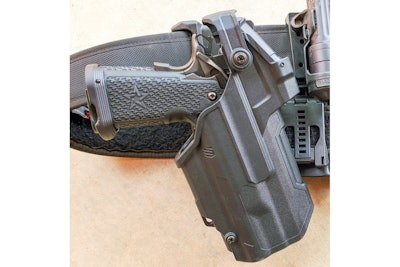 Steel parts are finished with black diamond-like coating (DLC), which renders a matte finish that is more resistant to holster wear and abrasion than traditional bluing, Parkerizing, or baked paint. The barrel is left "in the white" but can also be finished in black upon customer request. The gun, when purchased via Staccato's law enforcement program, comes with a total of four magazines and the purchaser's choice of optic mounting plate. All this is packaged in a zippered nylon case that includes a divider to keep mags and accessories from rubbing or banging against the pistol in transport or storage.
FINAL THOUGHTS
While the pistol used here proved to be accurate and reliable with both practice and duty ammo, all may not be perfect. Shooters with small hands might find the 2011's grip circumference a bit of a reach.
The 2011 is also quite heavy, especially when compared to other polymer frame pistols on the market. Still, Staccato has enjoyed surprising success and has taken the 2011 from something that was primarily seen on the target range to something that's now seen on patrol. At the time of this writing, the Staccato is either issued by, or approved for carry with, over 650 agencies nationwide.
Qualifying professionals may purchase direct using Staccato's "Blue Line'' officer purchase program. Information on the Blue Line program, as well as EMS/Firefighter and military service discounts can be found on Staccato's website.
Andrew Butts has served as a soldier in the Army National Guard and worked as a correctional officer in Montana. He is currently a firearms instructor with a federal agency. He is also a staff instructor for the National Law Enforcement Firearms Instructors Association.
STACCATO
2011 P PISTOL
Caliber: 9mm
Barrel: 4.4-Inch Bull Barrel
Sights: Dawson Precision Fiber Optic Front, Staccato 2011 T.A.S II Rear
Optic-Ready: Fiber Optic Front, Tactical Dawson Precision Optic System "Patented" Rear
Trigger: 4 to 4.5 Pounds With Ambi Safety Levers
Length: 8.1 Inches
Grip Width: 1.3 Inches
Height: 5.8 Inches
Width At Safeties: 1.5 Inches
Steel Weight: 33 Ounces Empty With No Mag
Aluminum Weight: 28 Ounces Empty With No Mag
Magazines: Comes With Two 17-Round One 20-Round Magazine
Price: $2,099 Minus 15% Active Law Enforcement Discount