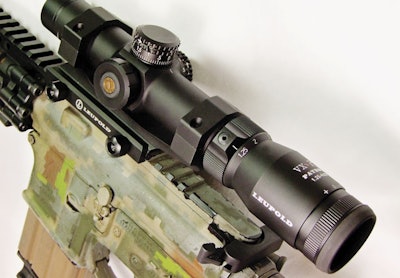 One of the best known names in tactical optics is Leupold. The company has been offering scopes designed for law enforcement and the military for decades. You will find Leupold optics on precision rifles serving units from Washington D.C. to Kabul to Fairbanks, and surviving the diverse climates of all those areas. That's because when given mission requirements, Leupold builds optics to meet end users' needs. This is the case with the VX-R 1.25-4X20 SPR, a scope built for AR-style rifles.
With its ballistic Firedot, this is a fast red dot scope with ballistic drop and windage stadia marks for an accurate long-range shot. The red dot is activated by the Motion Sensor Technology switch, which increases or decreases the brightness of the dot with a simple push of the button. No clicks and no guesses if the dot is off or on. You can see the light go off and on, or increase and decrease in brightness. This is one of the slickest switches I have used or seen on an optic.
Another cool feature of the Firedot is the use of fiber optic technology in the reticle. This gives you a crisp clear crosshair in all lighting conditions.
To see if the VX-R SPR was all that the spec sheet said it was, I mounted one on my DelTon M4. I used this rifle-scope combination on the range on cloudy, sunny, and rainy days to test how well the new reticle worked. I can tell you it was crisp and clear no matter the conditions; the red dot allowed it to be used as a reflex-type scope or a precise scope.
The VX-R SPR is a fine all around use optic. It performs well at close-quarter distances and is clear and precise enough for precision applications at distances out to 200 yards on a 16-inch carbine. Leupold has built a scope to meet the optical needs for most police carbine applications. Give the VX-R a look-see at your local firearms dealer. I think you will be impressed, too.
Leupold VX-R 1.25-4X20 Specs
Length: 9.5 inches
Diameter: 30mm
Reticle: Firedot
Fully coated, waterproof
Price: $579.99