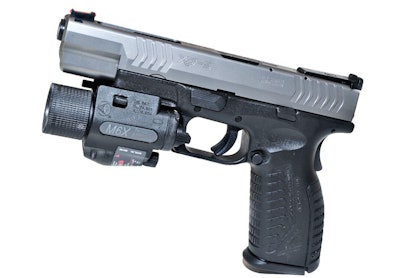 Editor's Note: To view more detailed pictures of the pistol, check out our gallery, "Springfield's XD(m)-9 5.25."
Back at the beginning of the last decade, Springfield Armory was best known for its line of 1911A1 pistols and M1A1 rifles. That meant that Springfield was not a major player in the lucrative police duty gun market.
The company's leaders decided to do something about that. They looked around for a partner that could make a polymer frame pistol to compete with Glock's line of duty pistols. And they found I.M. Metal Corporation of Croatia and its HS2000 pistol. I.M. and Springfield formed a joint venture to market I.M.'s pistols in the United States. After some minor modifications of the HS2000 design, in 2002 the Springfield XD (X-treme duty) pistol line was born.
Springfield's XD features a polymer frame to provide superior resistance to abuse, wear, oils, solvents, and environmental extremes. Many of the internal components are also produced from polymer. The frame contains a steel locking block that also houses the lower portion of the feed ramp. The slide reciprocates on two pairs of slide rail steel inserts while the dust cover area features rails, allowing the mounting of lights or laser sights.
Key metallic parts on the XD include the slide, which is machined from solid steel and is protected by a Melonite finish. Locking is provided by the barrel hood moving up into and bearing on the front edge of the ejection port. When the pistol is fired, the barrel and slide move together a short distance before the barrel drops down on the locking block, allowing the slide to continue to the rear, extracting and ejecting the spent case. A dual recoil spring located under the barrel then pulls the slide forward, stripping the next round out of the magazine and chambering it. As the slide goes into battery, the barrel is pulled up and its hood enters the ejection port, locking the two units together.
New and Improved
Springfield released an improved XD, the XD(m), in 2008. The XD(m) had all of the features of the XD but with a reshaped grip with aggressive texturing and interchangeable backstraps, and the slide had deeper and longer grasping grooves. These combined to provide superior ergonomics and recoil control, even with wet hands or when wearing gloves.
XD(m) pistols also have multiple safety devices. In addition, at the rear of the ejection port is a loaded chamber indicator and, when cocked, the tail of the striker extends out of the end of the slide. These devices provide both visible and tactical indication of the pistol's condition.
The XD(m)'s Ultra Safe Assurance (USA) trigger system functions like a double-action trigger, but it's technically a single-action trigger. As the slide runs forward, the wide striker tail engages a fixed sear in the frame where it's held to the rear. Pulling the trigger through a full stroke depresses the trigger block safety and there is a bit of spring-loaded take-up before the firing pin safety is depressed and the sear is tripped.
Springfield offers the XD(m) in Sub-Compact, Compact, Service, and Tactical models fitted with, respectively, three-, four-, and five-inch plain or ported barrels. The XD(M) is available in 9mm Parabellum, .357 SIG, .40 S&W, and .45 ACP.
Both the XD and XD(m) have proven popular with American law enforcement, and a growing number of agencies have adopted or approved them as duty weapons for use by officers.
Match Gun
Springfield recently introduced yet another version of the XD(m) designed for action pistol competition shooting, and I believe it is equally adaptable to law enforcement purposes. The XD(m)-9 5.25 was designed with the input of champion shooter Rob Leatham and is intended to give competitor shooters everything they need to compete right out of the box.
This new competition XD(m) features a match grade 5.25-inch barrel and longer slide. The longer barrel provides higher velocities for the 9mm cartridge, allowing it to achieve the fullest ballistic potential for enhanced on-target performance.
While the .40 S&W is currently the cartridge of choice with American law enforcement agencies, thanks to advances in bullet design and modern propellants, the 9mm no longer has to take a back seat to its larger caliber brethren. In addition, the 9mm has lighter recoil, allowing fast, accurate follow-up shots, and higher magazine capacity. In fact, the XD(m)-9 5.25 comes with Springfield's all steel "Megazine," which holds an impressive 19 rounds.[PAGEBREAK]
The XD(m)-9 5.25's slide has a cutout on its top, which reduces reciprocating mass to lessen muzzle flip, allowing for faster cycling and permitting the pistol to digest a wide variety of ammunition with reliability. At the rear is a low mount, fully adjustable rear sight, which mates up with a fiber optic front sight for faster sight alignment, target acquisition, and transitioning. In addition, accuracy is enhanced by the longer sight radius.
Like all pistols in the XD(m) line, the XD(m)-9 5.25 features ambidextrous magazine releases, which greatly eases the training of Southpaw officers. Each pistol comes with a padded carrying case containing three magazines, a holster, dual magazine pouch, and a magazine loader.
Tactical Drills
Springfield provided me with a Bi-Tone XD(m)-9 5.25 to evaluate for POLICE Magazine. I found its handling and ergonomics to be above reproach while the Minimal Reset Trigger had short take-up and reset distances. I could both hear and feel when the trigger reset, which I find to be a valuable feature for making precise shots.
I test fired the XD(m)-9 5.25 for accuracy from a rest at 25 yards with four brands of high-performance 9mm ammunition. The pistol shot to point of aim with all of the ammo and produced groups ranging from just under two inches up to three inches in diameter and, as do many of the 9mm pistols I've fired, showed a preference for heavier projectiles.
I belted on the holster that came with the pistol and ran it through the following series of drills:
5 yards-draw pistol and fire five rounds on target with an unsupported (one-handed) grip.
5 yards-draw pistol, switch it to the weak hand and fire five rounds on target.
10 yards-draw pistol and fire two rounds (double tap) on target. Perform combat reload and repeat. Re-holster and repeat drill three times.
15 yards-draw pistol and fire 10 rounds on target, slow aimed fire.
The Springfield handled very well during all of these drills. The longer barrel and slide provided excellent balance and reduced muzzle flip and felt recoil, even with +P+ ammunition. The sights proved to be just what was needed for fast, accurate shooting. And the well-positioned magazine releases and wide magazine well made for fast and fumble-free reloads. I had no trouble whatsoever putting every round exactly where it would have been most effective.
I believe that the XD(m)-9 5.25 would be a most viable option for police service. Despite its longer barrel and slide, it has a shorter overall length and weighs less than such full-sized pistols as the 1911 or Beretta 92/96, making it practical for daily, uniformed carry. Its excellent ergonomics, low recoil, and high cartridge capacity would be especially useful in tactical operations.
Paul Scarlata has served as an auxiliary police officer and is a frequent contributor to POLICE.
Springfield Armory XD(m)-9 5.25 Pistol Specs:
Caliber: 9mm Parabellum
Capacity: 19 rounds
Overall Length: 8.3 inches
Barrel Length: 5.25 inches
Width: 1.180 inches
Height: 5.875 inches
Weight (unloaded): 29 ounces
Construction: Slide: forged steel
Frame: polymer
Finish: Black Melonite or bright
Sights: Front: fiber optic
Rear: Fully adjustable
Grips: Polymer
Features: Minimal reset trigger, match grade barrel, grip safety, ambidextrous magazine releases, loaded chamber indicator, cocked striker indicator, Picatinny rail, interchangeable backstraps, three magazines, magazine loader, holster, dual magazine pouch, padded carrying case, cable lock, owner's manual
Price: $795 (Black); $865 (Bi-Tone)