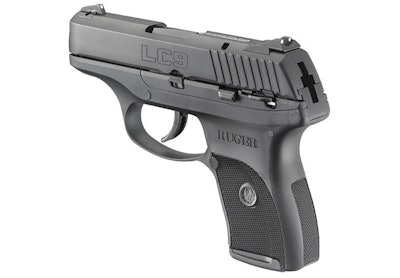 Editor's note: View our Ruger LC9 gallery for more photos of the pistol.
If you have been paying the slightest bit of attention to the handgun market over the last several years, then you are aware that the hottest selling items are the new breed of lightweight sub-compact pistols. Civilian demand for such pistols has skyrocketed as many states have adopted liberal concealed carry laws. These guns are also very popular with law enforcement officers because more agencies now allow or require their personnel to carry a backup or off-duty handgun.
In 2008 Ruger unveiled its .380 caliber Light Compact Pistol (LCP) designed specifically from the ground up for concealed carry. While the LCP proved popular with both civilians and law enforcement officers, there were those who felt that its .380 cartridge was a lower end choice for defensive purposes. To answer this criticism, Ruger developed the Light Compact 9 (LC9).
9mm
The LC9 is chambered for the 9mm Parabellum cartridge. There are those who belittle the "nine" as a defensive round, but it is significantly more powerful than the .380. And thanks to modern propellants and jacketed hollow point bullets, it performs better than the iconic .38 Special, especially when fired from short-barreled handguns. It also does this with lower levels of recoil, which is a prime consideration when using small, light handguns.
As you might expect, the LC9 shares many of the features of the LCP. First of all it is small, only six inches long and less than an inch wide.
It's also light. Built on a glass-filled, nylon frame, which helps pare its unloaded weight, it weighs in at just a tad over 17 ounces.
Inside the frame is a hardened alloy insert that provides additional strength and includes rails that the slide reciprocates on. The LC9's slide is machined from hardened steel and features a blue finish.
Both the slide and frame have been "melted" to remove any sharp edges or corners that might injure the shooter's hand during reloading or clearing a malfunction. This process also makes for ease of drawing the pistol from concealment and re-holstering. Unlike its .380 caliber cousin, the LC9 features a set of rugged, easy-to-see, three-dot sights, both of which can be drifted to make windage adjustments.
Easy to Use
As has become all but mandatory with polymer frame handguns today, the LC9 has a double-action-only (DAO) trigger. This provides simplicity of operation-a trait I consider critical on any firearm intended for personal protection-and the traditional safety features of the double-action revolver. To provide extra security, the LC9 features a manually operated thumb safety on the left side of the frame, which when applied locks the hammer and trigger.
In addition, a magazine disconnect safety prevents firing if the magazine is removed. A prominent loaded chamber indicator provides both a visual and tactile indication of the pistol's condition. A small cutout at the rear of the chamber area also allows you to visually verify if there is a round in the chamber. A rather massive extractor ensures reliable extraction and ejection of spent cases.
Other controls include a magazine release button located in the "proper" position and a slide stop. As do many new Ruger pistols, the LC9 has an internal, key-operated lock that can be applied to prevent unauthorized firing.
The LC9 is a hammer-fired pistol, but it doesn't have "re-strike" capability. That means in case of a misfire the shooter must retract the slide slightly to reset the trigger before he can pull the trigger again in an attempt to ignite a recalcitrant primer.[PAGEBREAK]
The LC9's magazine holds seven rounds of 9mm Parabellum ammunition. With one in the chamber this gives the shooter three more rounds than most snub-nosed revolvers. For those with beefier paws, Ruger supplies a finger rest extension magazine base plate that allows a full, three-finger grip on the pistol. Combined with the grip's aggressive checkering, this provides the shooter with improved recoil control.
Despite its demure dimensions (it's only an inch longer and higher than the LCP), the LC9 is a locked breech design. Locking is accomplished by the barrel hood moving up into and bearing against the front of the ejection port. When fired, the barrel and slide move to the rear, locked together for a short distance whereupon a cam on the bottom of the barrel articulates on the frame insert, pulling the barrel down so the slide can continue to the rear, extracting and injecting the spent cartridge case. The dual recoil springs, located on a full-length guide rod under the barrel, pull the slide forward chambering the next round. As the slide goes into battery, the barrel is cammed up, locking the two units together again. The hammer is held away from the firing pin until the trigger is pulled through a full stroke.
15 Yards
Ruger kindly provided me with an LC9 to evaluate and, while it is truly a small pistol, my first impression is that it just felt "larger" than it really was. It was obvious that a lot of thought went into ergonomics. Unlike many pistols of its class, the grip was hand filling and it pointed very naturally.
The trigger had a rather long, but smooth and stage-free, stroke. I especially liked the generously sized trigger guard, which did away with the propensity for "pinching" your trigger finger that many small pistols display and also allows one to shoot the pistol when wearing gloves.
My LC9's sights were large and easy to see and nicely angled so as to not hang up when drawing the pistol from concealment, and I was happy to see that the controls could be operated with my right thumb without moving the pistol around in my hand. While the flat magazine base plate might make the pistol a bit more concealable, the extended one provided a much more secure grip and so I installed it and left it on.
Considering that it's a close range, defensive handgun, I accuracy tested the LC9 from a rest at a moderate 15 yards. As has been my experience with many 9mm pistols, it showed a preference for heavier, slower moving bullets but printed close enough to point of aim with all four loads to keep me happy.
I produced a number of sub-three-inch groups, which I feel is pretty good for a pistol of the LC9's size with a DAO trigger. Afterward, the four types of ammunition were run across a chronograph to see what types of velocities they produced from the Ruger's attenuated barrel.
To see how it performed in offhand shooting, I ran a series of drills with the LC9 on a pair of targets set out at seven yards. Firing the pistol with both supported and unsupported grips, I proceeded to perforate the target in a most pleasing manner. It proved capable of putting rounds just where I wanted them and not a single round wandered outside of the target's "head" and A zone while recoil control was very good for a pistol of its size and weight.
As is my usual practice with the pistols I test, for the next several weeks I carried the LC9 daily. Thanks to its slim dimensions and light weight, and using a Galco Front Pocket holster, I was able to carry the Ruger in the front pocket of my cargo pants very comfortably but still allowing a smooth, unimpeded draw. In fact, I found it no more inconvenient to carry than a somewhat smaller .380 pistol I sometimes use.
The only complaint I can voice about the LC9 is that the trigger doesn't have re-strike capability. Of course this is common on many of the newer pistols, but I would still like to see the mechanism modified to provide it.
If you are looking for a lightweight, compact pistol for personal or home defense, concealed carry, backup, or off-duty use, I believe the Ruger LC9 is an attractive choice.
Paul Scarlata has served as an auxiliary police officer and is a frequent contributor to POLICE.
Sturm, Ruger & Co. LC9 Sub-Compact Pistol Specs:
Caliber: 9mm
Capacity: 7 rounds
Overall Length: 6 inches
Barrel Length: 3.12 inches
Height: 4.5 inches
Width: 0.9 inches
Weight: 17.1 ounces
Construction: Slide: Blued steel
Frame: Glass-filled nylon
Sights: Front, white dot; Rear, dual white dots
Extra Features: Manual safety, magazine safety, internal lock, loaded chamber indicator, magazine finger grip extension, lock, nylon carrying case, and owner's manual
Price: $443