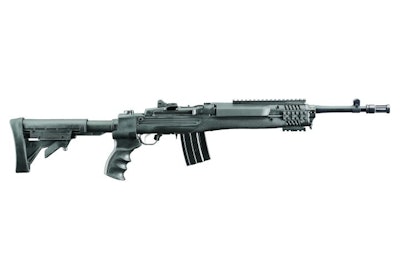 Editor's note: View our Mini-14 Tactical Carbine photo gallery for extended coverage of this carbine.
There was a time when the Ruger Mini-14 was one of the most popular patrol and tactical rifles in U.S. law enforcement. But it fell out of favor, as AR platform rifles added adjustable stocks and Picatinny rails. That's why I wanted to evaluate the latest version of the Ruger Mini-14 Tactical Rifle with the ATI adjustable stock and accessory rail. I was eager to see if this rifle could be viewed as a serious contender in the 21st century patrol or tactical law enforcement rifle market.
I first became familiar with the Ruger Mini-14 back in the early 1980s. At the time these rifles were being widely issued and used in law enforcement. So when I transitioned from police officer to U.S. Customs agent, I trained with a Mini-14 before I qualified with and used other rifles. I also qualified with and carried a personally owned blued steel Mini-14 GB Model. Then when I retired I acquired a stainless steel version of the Mini-14 that was fitted with an aftermarket side-folding paratrooper stock.
Loading and Unloading
From my experience, I can tell you that there are some drawbacks to the Mini-14 design when compared to other patrol and tactical rifles, especially the AR.
The biggest problem is loading the Mini-14. With an AR, you just slap in a mag. In contrast, the Mini-14 is loaded by inserting the magazine at a slight angle then rocking it to the rear to lock it into position. Now don't get me wrong. A trained shooter can certainly load a Mini-14 fast enough to get back into the fight. It's just a lot easier with an AR.
The reason I mention this is because even though I consider myself to be an experienced end-user of the Mini-14, there are times when even I have experienced a problem loading one of these carbines and had to fiddle around with the magazines a bit in order to get them to lock into position.
Ruger also uses proprietary magazines instead of AR magazines on the Mini-14. I think this was a big mistake that needs to be rectified in the future. AR magazines are significantly more plentiful than Mini-14 magazines and therefore much cheaper than Mini-14 mags.
Several years ago Ruger modified the Mini-14 to operate with both .223 and 5.56mm ammunition. This is a confusing point because the receiver is marked .223 but my contact at Ruger confirmed that the notation on the box is correct and the new Mini-14s are designed to be used with all kinds of 5.56mm ammo. I tested the sample Mini-14 with both .223 and 5.56mm ammo. There was no noticeable difference in accuracy or reliability.
Tactical Model
The Mini-14 Tactical with an ATI stock and accessory rail is the only model in the Mini-14 line that includes any modern options worth noting. But it has one major fault. The accessory rail is a bit too high and partially obstructs a portion of the front sight blade. This makes it difficult to quickly acquire targets. The solution, of course, is not to use the iron sights.
The accessory rail on the Tactical Model Mini-14 allows you to fit it with a high-quality optic. And that makes this rifle a much more effective tool for law enforcement operations and home defense.[PAGEBREAK]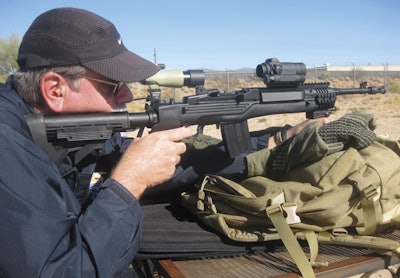 The earliest configurations of the Mini-14 were plain vanilla versions with iron sights and a wooden or basic nylon stock. This first Mini-14 had an 18.5-inch barrel and weighed 6.75 pounds. In contrast, the tactical Model has a 16.12-inch barrel and weighs 6.75 pounds and the Tactical Model with the ATI Stock and the accessory rail has a 16.12-inch barrel and weighs 7.25 pounds unloaded.
All Mini-14s are powered by a breach bolt locking fixed position gas system and are super reliable and as combat accurate as any rifle you will probably ever need to use in an emergency. The ATI stock and the pistol grip were both comfortable to use, with the collapsible stock enabling the operator to adjust shooting position and length of pull.
The length of pull with the ATI stock model extends from 11.88 inches to 15.82 inches. The average Mini-14 has a length of pull of 13 to 13.50 inches.
Stainless steel Mini-14s have always been popular patrol rifles for law enforcement marine units and agencies that operate in tropical and swampy environments. However, it must be noted that stainless steel firearms still require proper maintenance and must be properly lubricated and properly cleaned after being exposed to salt water or salt spray.
On the Range
I sighted in the Ruger Mini-14 using iron sights while shooting from a stable metal table and using an improvised bench rest. It took about 20 rounds of ammunition and several adjustments to get the rifle shooting a 2- to 4-inch group at 50 yards while engaging a 2-inch Shoot N See round "sticky" target. The best groups noted were a tad under two inches using Federal 110-grain .223 FMJ ammunition.
I also fired the Ruger Mini-14 test rifle from the 50-yard line from a standing unsupported position using iron sights and no accessories. During this test, I emptied a 20-round magazine about as fast as I could pull the trigger at a TQ19 Police Firearms Qualification Target.
Despite the fact that the top accessory rail has a U-shaped slot running down the middle it did not appear to be cut deep enough to work well with my eyes. I compensated for this by concentrating more on the front sight. The results were quite satisfactory, but I still don't like the way the accessory rail blocks the front sight on this rifle.
Like many rifles with accessory rails, the Mini-14 Tactical was made for optics. So I sighted in the test rifle using an Aimpoint Comp M4 red dot optic. I also added a CAA brand folding forward vertical grip.
All it took was a few adjustments and a small amount of ammunition and the Mini-14 was nailing targets with combat precision. The Aimpoint optic made it possible for me to bang away at targets at a much faster rate of fire than when I used just the iron sights.
I like the Mini-14, especially the Tactical model, but its design has not aged well. The main problem with the Mini-14 is that this rifle can only evolve or advance so far unless major revisions are made to the basic platform. And I don't know if Ruger is willing to invest the time and effort to really update the Mini-14, especially considering that the company is now offering its own AR variant, the SR-556. Still, despite its shortcomings, I would have no qualms about carrying the Mini-14 Tactical on duty or using it for home defense.
Nick Jacobellis is a medically retired U.S. Customs Agent and a former police officer who was physically disabled in the line of duty while working undercover as a federal agent.
Sturm, Ruger & Co. Mini-14 Tactical Carbine Specs:
Caliber: .223 Rem, 5.56mm NATO
Capacity: 20 rounds
Barrel Length: 16.12 inches
Overall Length: 3 4 inches
Weight: 7.25 pounds
Length of Pull: 11.88 inches
Twist: 1:9 inches
Stock: Black synthetic, collapsible folding stock
Sights: Rear adjustable; Front blade
Finish: Blued
Price: $939