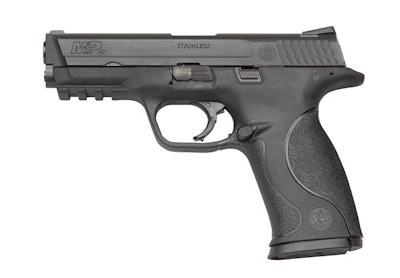 Smith & Wesson will begin supplying duty firearms from its Military & Police (M&P) Pistol series to the Miami Beach Police Department, Olympia (Wash.) Police Department, and the Passaic County (N.J.) Sheriff's Office.
The Miami Beach PD has converted to the M&P40 pistol, while the Olympia PD and Passaic County SO selected the M&P45 pistol. Each of the agencies has begun issuing the pistols to officers in the field.
The Miami Beach PD has received 460 pistols. After the agency's review process, the M&P40 was selected by the department for its ergonomic design and customizable features. The pistols will include the agency's shield and logo on the slide of the firearm.
The Passaic County SO has received 660 M&P45 pistols for deputies. The pistol was selected for its low perceived recoil and reliability during firing. Smith & Wesson will also provide the agency with a variety of additional services including armorer training and technical support.
Olympia PD received 77 M&P45 pistols for duty use. Department personnel said they liked the M&P pistol's ability to adapt to a wide variety of officer preferences with features such as customizable grip inserts and ambidextrous operating features.
"Because the M&P pistol has been engineered to meet our highest standards of performance and reliability, it continues to be selected by numerous law enforcement agencies across the country," said Mario Pasantes, Smith & Wesson's senior vice president of marketing and global professional sales. "These professionals demand firearms that deliver consistent results in the field, and they continually seek innovative feature sets that help deliver improved operation and adaptability."