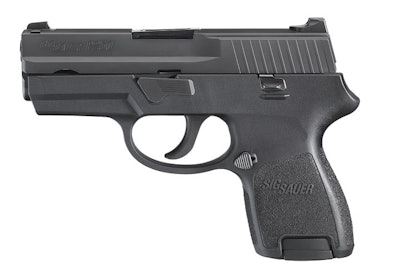 Back in the mid-1980s I was one of the first members of the U.S. Customs Service in Miami to buy a 9mm SIG P226. I liked that 226 so much that I soon bought three more SIGs, a pair of 9mm P228s, and a P220 in .45 ACP. But what I really wanted was something that SIG Sauer did not make, a subcompact handgun chambered in a substantial caliber that would fit inside an ankle holster. That meant even though I carried a SIG as a primary service handgun, my backup guns were a five-shot Smith & Wesson .38 Special revolver or a .380 subcompact.
I mention this because I want you to know that I have long desired a subcompact SIG pistol in a substantial caliber for use as a backup gun or concealed carry firearm. This will explain to you why I was so excited to hear that SIG would be making a subcompact version of its revolutionary SIG P250 convertible pistol.
A Convertible Pistol
Despite the fact that the SIG P250 is a departure from my beloved SIG Classic Series pistols, I like the overall design.
The main selling feature of the SIG 250 design is that the trigger assembly or the "fire control group" is the actual serial-numbered part of the pistol, not the frame or the slide assembly. This translates to the end user being able to easily install the fire control group into different frames to make different sizes of pistols. Naturally, if you wish to go from a subcompact to a compact or a full-size, you also need to purchase a new slide assembly that includes a different size barrel, a recoil spring, and a magazine.
The potential for customization with the P250 means that you can select the perfect frame size that provides the best reach to the trigger and the nicest grip or ergonomics for your hand size. In addition, you can purchase different frames and have them shipped through the mail without having to sign a federal 4473 because a frame is not a gun.
You can easily use the fire control group from one SIG P250 to build a different size or caliber pistol. Naturally, this feature is ideal for a law enforcement agency or a security force that wants to issue pistols to its personnel with frames that fit each officer's individual hand sizes. The interchangeability of parts can also help individual gun owners who wish to train other members of their families to operate and use the same SIG 250 pistol.
But all of this customization can also have a down side.
The first time I test fired a SIG P250, SIG sent me a pistol with the wrong size frame. As you can imagine I was not a happy camper when I found myself ejecting the magazine under firing conditions because the thumb on my strong hand kept engaging the magazine release button when this pistol recoiled.
This problem was easily resolved. Once I was able to test fire the same size of SIG P250 with a medium frame installed I was able to shoot this pistol with flawless reliability, even though I did not like the "seemingly" long DAO trigger pull. More about that in a moment.
One thing I really like about the SIG P250 Compact and the P250 Subcompact is their overall size.
In addition to its Transformer-like design, the SIG P250 Subcompact has some excellent features. For example, it comes with SIG's excellent night sights. I am also very fond of the well/grip design, which is cut out a bit on both sides toward the bottom to make loading and unloading magazines a very easy task.
Getting Used to It
I wanted to answer one overriding question when I took the SIG P250 Subcompact to the range: Would it make a good backup or concealed carry weapon for today's law enforcement officer?
That question turned out to be tougher to answer than I imagined.
I cleaned and lubed the little SIG P250 test pistol and took it to the range. There, I loaded the primary and backup magazines with an assortment of high-quality Winchester, Federal, Speer, and Magtech ammunition and started sending rounds down range at a TQ19 Police Firearms Qualification Target.
The results were not good. But I quickly came to believe that the problem was with me and not the gun.
Before test firing the DAO P250 Subcompact, I had been field testing a large number of double-action, single-action DA/SA SIG pistols, several single-action 1911s, as well as various striker-fired pistols from Glock and Smith & Wesson. In other words, the long revolver-like trigger pull on the DAO P250 Subcompact was giving me fits.
After two range sessions with a SIG 250 Compact and two range sessions with a SIG 250 Subcompact, my accuracy was not improving. In fact my worst range session with any SIG Classic Series pistol was better than my best day firing a SIG P250 variant.
I'm not trying to blow my own horn, but I'm not a bad shot. Just before I started testing and evaluating the SIG P250 Subcompact, I qualified on a POST Law Enforcement Firearms Qualification Course with my DA/SA SIG P220 Compact Pistol in .45 ACP, my DA/SA SIG P239 in 9mm, and my DA/SA SIG P229 in .40 S&W caliber and achieved a 250 out of 250. So it disturbed me to no end that I was not as good of a shot with the DAO SIG P250 Subcompact test pistol.
But I continued testing this pistol because there are many things that I like about it, and I wanted it to shoot well. In fact, other than my problems with accuracy, my only complaints about the SIG P250 were that I prefer the SIG DA/SA trigger and even the SIG DAK trigger system over the SIG P250's DAO trigger system.
I knew this pistol could shoot better than I was shooting it. I also knew from experience that practice does make perfect, and if I hung in there, I would get better with this gun. At the very least, I was hoping to keep all of my rounds fired on the paper target.
During my third range session, my accuracy started to improve. I engaged a TQ19 target from the 7-yard line. After firing 12 rounds of 124-grain 9mm Magtech FMJ training ammunition, I inspected my target and saw that I had put all of the rounds inside the small rectangular size box in the upper chest area of the target. OK, my rate of fire was not fast, but I was finally getting the hang of the P250 Subcompact's DAO trigger.
Next, I stood about 30 feet away and fired another 12 rounds of 9mm 124-grain Winchester and Federal FMJ training ammunition at the same target. As you might expect, my group opened up a bit, but all of the rounds fired were still in the scoring portion of the target. While standing near the 25-yard line, I dumped another 10 rounds of Federal 124-grain 9mm Personal Defense hollow-point ammunition into the same target. The results were seven hits, and the three rounds that were considered misses were on the target but were outside of the scoring area.
Even though I did not execute any combat reloads or time myself while running through this rough example of a qualification course, I ended up with 31 out of 34 rounds fired counting as hits. I learned two things: The SIG P250 Subcompact is a very accurate pistol and you can teach an old dog like me new tricks.
Because I had the patience to shoot this pistol on a third occasion, I became proficient enough with it to recommend the SIG P250 Subcompact to anyone who carries a larger size SIG P250, a SIG Pistol with a DAK trigger, or some other DAO service pistol. I also believe the SIG P250 Subcompact would make a good undercover gun. In addition to being very comfortable to shoot and flawlessly reliable, the SIG P250 Subcompact has excellent night sights, is easy to disassemble for cleaning, and is very comfortable to carry. More importantly, the SIG P250 Subcompact is accurate, and I believe anyone who maintains his or her firearms proficiency should be able to use this pistol to successfully engage a man-sized target at reasonable CQB distances with confidence.
Nick Jacobellis is a retired U.S. Customs Agent and former New York police officer who was physically disabled in the line of duty while working undercover as a federal agent.
SIG Sauer P250 Subcompact Nitron Rail Specs:
Caliber: 9mm
Capacity: 12 rounds
Action: Double-action only
Trigger Pull: 5.5 to 6.5 pounds
Overall Length: 6.7 inches
Barrel Length: 3.6 inches
Height: 4.7 inches
Overall Width: 1.1 inches
Weight (empty): 24.9 ounces
Sight Radius: 5.5 inches
Sights: Siglite night sights
Grips and Frame: Polymer
Slide Finish: Nitron
Price: $521