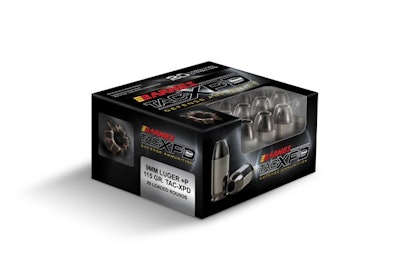 Barnes will introduce the TAC-XPD line of ammunition in 2013 that the company is branding as ideal for law enforcement, as well as "carry or home defense."
The TAC-XPD ammunition arrives with Barnes' TAC-XP all-copper bullets with a large, deep hollow-point cavity designed to expand, penetrate and perform consistently, according to the company.
Upon impact, the TAC-XP pistol bullets retain nearly 100% of their original weight and track straight, according to the company.
The lighter bullet weights of all-copper TAC-XP projectiles in comparison to lead-core counterparts enable the shooter to recover quickly due to less felt recoil, without sacrificing terminal performance.
Specially engineered loads produce almost no muzzle flash, which helps the shooter in low-light conditions. The shells are plated with "Techni-Crom" technology.
TAC-XPD ammunition is sold in a 20-round package and will be available in early 2013 in four loads: .380 Auto, 80-grain; 9mm Luger, 115-grain +P; .40 S&W, 140-grain; and .45 Auto, 185-grain +P.