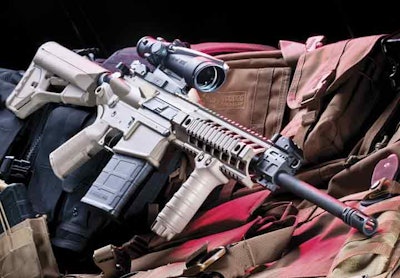 Editor's note: View our SIG Sauer 716 photo gallery for extended coverage of this carbine.
I recently took delivery of a test-and-evaluation model of the new SIG Sauer 716 Patrol tactical carbine in a flat dark earth finish. And as someone who has been a lifelong fan of SIG Sauer firearms, I felt like a kid on Christmas morning when I was opening the box.
First impressions are important when reviewing a firearm, and the SIG716 makes a great first impression. It's a ruggedly built 7.62mm carbine with a 16-inch barrel and a free-floating quad rail.
Feature Rich
The SIG716 uses a short stroke pushrod, rotating bolt operating system that is also known as a gas piston operating system. This system is different from a standard direct impingement gas operating system found on many semi-auto carbines because the short stroke pushrod uses the gas from expended or fired ammunition to push a steel rod to the rear, which in turn engages the bolt carrier and cycles the action so another round can be loaded into the chamber and fired. In contrast, the direct impingement (DI) gas system uses the gas from the expended ammunition to cycle the bolt and enable a "DI" rifle or carbine to reliably operate.
Features of the SIG716 Patrol carbine include a free-floating barrel, a Mil Standard 1913 rail system, a lightweight quad rail, a Magpul pistol grip, a Magpul retractable stock, folding or flip-up front and rear sights, Quick Release Sling Mount Attachments on both sides of the rifle, an adjustable nylon sling, and two 20-round Magpul PMAGs.
In addition to the flat dark earth finish on my test-and-evaluation model, the
SIG 716 is available in black and olive drab green. Empty and without magazine, the SIG 716 weighs 9.3 pounds.
Range Testing
After looking over the SIG716 Patrol and admiring SIG's craftmanship and engineering, it was time to take the rifle out for its first test.
During the first range session I attached a Trijicon ACOG TA11J magnified optic with a GG&G Quick Detach Mount. The optic and rifle delivered a sub-one-inch group at 50 yards from a braced sitting position using Winchester 147-grain 7.62mm NATO FMJ ammunition.
Of course real world encounters rarely if ever take place from a sitting position, so I decided to stand up. I fired the contents of a 20-round PMAG at various small targets at a range of about 40 yards from a standing unsupported position. And I was pleased with the accuracy when the rounds cycled. Unfortunately, I was also disappointed when the SIG716 experienced a stoppage.
I also noticed the SIG716 was producing empty brass cases that were dented and badly scratched. Rather than field test this rifle any further, I decided to err on the side of caution and contact SIG. Even though it was possible that this problem was caused by a slight burr in the chamber that would eventually correct itself after continued use, I decided to return the rifle to the factory for inspection.
About a week-and-a-half later the same SIG716 was returned with a note that the rifle had been inspected and was functioning properly. I don't know if SIG repaired the carbine or not, but from then on, my test model SIG716 Patrol operated flawlessly, and it no longer damaged the spent brass cases.
Back to the Range
I took the returned SIG716 Patrol to the range and initiated a second phase of field testing. Once again it shot sub-one-inch groups when fitted with the Trijicon ACOG TA11J with the green cross hair reticle and using 168-grain A-MAX Hornady .308 and 175-grain Boat Tail Hollow Point Black Hills .308 ammunition to engage a target from a seated braced position at a range of 50 yards.
I also engaged a TQ19 Police Firearms Qualification Target using white box Winchester 147-grain 7.62mm NATO FMJ ammunition. The results were excellent, as the rifle and ammo combo delivered a succession of head shots using iron sights.
To finish this range session I decided to see how the SIG716 performed in more of a tactical CQB-style application. Using a standing ready rifle position and sighting with the Trijicon ACOG, I walked back and forth between the 25- and 35-yard line and delivered all rounds fired into the torso area of a TQ19 Police Qualification Target.
I should also mention that even though carbine length 7.62mm NATO rifles like the SIG716 produce a tad more recoil than a 5.56mm NATO caliber carbine, this difference in recoil is by no means harsh enough to prevent any properly trained law enforcement officer from delivering accurate shot placement under different firing conditions.
Heavy Duty Tool
I am a big proponent of the use of semi-automatic, magazine fed .308 Winchester/7.62mm NATO rifles and carbines by law enforcement tactical teams and even by certain patrol personnel. I think the SIG716 Patrol is an excellent AR-10-style carbine, and it would make an ideal firearm for engaging active shooters, armed smugglers, bank robbers, or terrorists. It would also be a very good weapon for protection details conducting counter-sniper operations. Finally, I believe that patrol personnel who work in more rural or wilderness areas should be authorized to carry a carbine like the SIG716 so they can more effectively engage armed subjects or aggressive animals at long distances.
This does not mean that I think all 5.56mm NATO caliber patrol rifles should be replaced en masse by 7.62mm NATO caliber firearms. Instead, some sworn personnel should be issued or authorized to carry a variety of firearms in their vehicles so they can be suitably armed in all situations.
One of the reasons I enjoy field testing firearms for POLICE Magazine is because I learn a great deal when I evaluate new products then compare them to similar products. When compared to other semi-automatic magazine fed .308/7.62mm NATO caliber rifles and carbines, the SIG716 is an excellent value. It is a very well made special purpose AR-10-style carbine that can give law enforcement a tactical advantage during critical operations.
Nick Jacobellis is a medically retired U.S. Customs agent and a former police officer who was physically disabled in the line of duty while serving as a federal agent.
SIG Sauer SIG716 Patrol Carbine Specs:
Caliber: .308/7.62mm NATO
Capacity: 20 rounds
Action: Semi-auto
Operating System: Short stroke pushrod, rotating bolt
Overall Length: 37.4 inches
Barrel Length: 16 inches
Rifling: 1:10
Weight (empty): 9.3 pounds
Features: Magpul PMAGs, Magpul pistol grip, Magpul adjustable stock, quad rail, Picatinny rail, flip-up iron sights
Price: $2,132