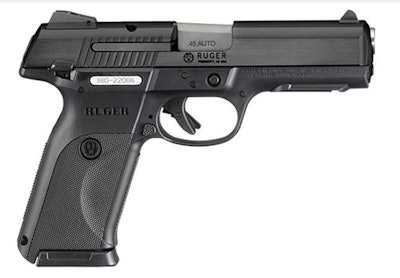 Sturm, Ruger & Co. has introduced the SR45, a .45 ACP entry to its line of SR polymer pistols.
The SR45 is chambered in .45 ACP and comes with a 10-round magazine. It retains a similar slim profile of the SR9 and SR40, Ruger's earlier models that made a play for law enforcement dollars. The pistols have yet to reach wider adoption as service weapons.
Ruger's SR45 offers customizable options for officers such as an ambidextrous thumb safety and magazine release button. A "reversible" backstrap allows the user to better fit the pistol to his or her hand.
Ruger will offer two versions of the SR45—a black nitride finished gun with an alloy steel slide and a brushed stainless finish on a stainless steel slide. The models will retail for $529.