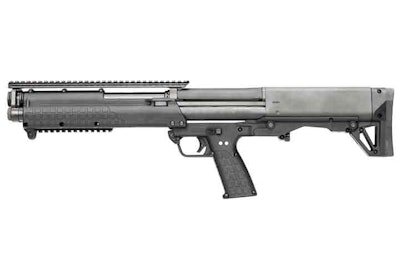 Each year the firearms industry displays its latest models at the Shooting Hunting and Outdoor Trade (SHOT) show. At SHOT, dealers and law enforcement officials get a chance to preview the coming year's weapons, accessories, ammunition, and tactical and hunting apparel.
In recent years, there have been very few surprises, unless you want to count last year's complete obsession with zombie eradication equipment. But zombies aside, there are trends emerging in the firearms industry, and they have the potential to determine what tools you will be issued in the near future.
Patrol Rifles
Barring legislation to ban so-called "assault weapons" that may be spurred by the horrifying Newtown, Conn., grade school massacre, the AR-15 and its variants will likely continue to rule the long gun market for the foreseeable future. The AR has been a staple of the gun market for a little more than half a century now. And while today's ARs look pretty much like their Vietnam War-era ancestors, the AR is an ever evolving rifle.
The last few years have seen the rise of the modular AR. Military demand has led to weapon systems such as the FN SCAR, the Bushmaster ACR, and the Colt modular rifle. These 21st-century rifles feature a wide variety of adjustable and customizable elements, but the most revolutionary thing about them is that the user can easily change the caliber of these guns from 5.56mm to 7.62mm. Gun writers and armorers have been skeptical about the need for such adaptability, and these guns are relatively expensive, but the military has bought enough of them for manufacturers to continue rolling them out. And they are excellent firearms.
Another ongoing trend in the long gun market is that manufacturers are reducing the weight on these weapons. One way that this is being accomplished is by changing the mil-std specs on the barrels.
The AR was originally designed as a select-fire military weapon, which means it had to withstand the heat of automatic fire. Civilian and law enforcement ARs tend to be semi-auto and they don't need the heavy-duty barrels found on mil-spec models. One major advocate of this approach is Winchester, Ky.-based specialty arms manufacturer Doublestar. "It's the same barrel material," says company vice president Jesse Starnes. "We just designed a lighter contour to yield a different mass."
Doublestar is not the only company reducing the weight of its ARs. Multiple manufacturers are now ditching heavy quad rail systems in favor of modular rail systems that allow shooters to place a small piece of rail on the rifle to accommodate an accessory without the weight of a full-length rail. "There was a time that everybody wanted as much rail as possible so they could hang everything but the kitchen sink on their rifles," says Starnes. "Then they came to realize that they were humping around a 20-pound entry weapon."
There's another added benefit to modular rail systems, according to gun writer and former Marine Corps officer Mike Detty. "The full-length rail systems hurt to hold onto because of all the sharp edges," he says. "Even worse they can tangle up on web gear."
Shotguns
There was once probably no more staid firearms market than the one for law enforcement pump-action shotguns. The basic design hadn't changed for more than a century. Oh, sure, there were tactical versions with pistol grips and short barrels, but the basic gun has remained the same. Maybe that's why the introduction of the Kel-Tec KSG was the talk of SHOT two years ago.
Cocoa, Fla.-based Kel-Tec took the basic pump-action shotgun and created a futuristic-looking version that is both aesthetically interesting and very functional. The KSG is a bullpup 12-gauge that's a mere 26 inches long and weighs just 6.9 pounds. Featuring a dual magazine tube system, the KSG has the capacity to hold 14 (plus one in the chamber) shells. Users often load one tube with buckshot and another with slugs. Kel-Tec design engineer Ryan Williams also says it's not unusual for officers to load each tube with two different less-lethal rounds.
Kel-Tec does not recommend mixing lethal and less-lethal capability. But some international Kel-Tec customers are insisting on doing so. Williams is against that concept, but he thinks the international market may push some gun manufacturers in that direction in the near future.
Williams says Kel-Tec's focus in the next few years will be to improve the efficiency of the production of the KSG to meet market demand. But another market demand is also on his mind. "Some of our customers want a semi-auto KSG. We're not ready to go that route yet, but we're thinking about it," he says.
Whether the KSG's radically innovative design will result in a trend of rethinking the shotgun remains to be seen. But it could be the first in a series of new weapons that challenge the traditional design of their platforms.
Pistols
It's unlikely that such an innovative platform will come out of the duty handgun market. The last major innovation in semi-auto pistols was the polymer-framed, striker-fired Glock. And the most prevalent trend in pistols is the mass demand for concealable models spurred by the civilian concealed carry market. This has also resulted in a wider variety of concealed carry options for officers both on and off duty.
No company has benefited more from the concealed carry market than Kahr Arms. The Blauvelt, N.Y.-based company was launched in 1995 to make small but high-quality pistols. The company's products soon caught on with officers who were switching from using small revolvers as off-duty and backup guns to using small semi-autos.
Art Moore, Kahr Arms' East Coast sales manager and a former law enforcement officer, says for the near future the company will focus on delivering value-priced guns in its CW and CM lines. "By machining less on the exterior of the gun and shipping in a cardboard box with only one magazine, we shave as much as $200 off the price of the gun. That puts us in a very desirable niche for meeting the needs of law enforcement officers."
The demand for smaller and better concealed carry pistols is expected to continue to expand barring some changes in the laws because of the backlash against guns that was unleashed by the Newtown tragedy. And cops will most likely continue to benefit from that innovation. Williams says young officers have already benefited substantially from the push by companies like Kahr to make small but effective handguns. "For a while many officers were not carrying off duty because of comfort issues," Williams says. "Now they can carry with greater comfort, better concealability, and more capability."
On the duty weapon side, it's much harder to identify any new trends. Striker-fired pistols continue to be very popular with both officers and agencies. And Glock and Smith & Wesson have maintained their dominating market shares.
So it's widely believed that the next great trend in duty pistols will be in their sighting systems, not in their actual design and function. Officers may soon be using optics on their handguns, according to Detty.
Many officers are skeptical about the idea of using optics, but Detty says they should keep their minds open on the issue. "When the military first started considering optics for rifles, they were viewed as fragile encumbrances that destroyed the lines of weapons, made them bulky, and not combat worthy. But the military soon saw the benefit of optics," he explains.
Detty says optics on pistols will help officers acquire targets faster and remain more tactically aware. They will also help skilled shooters hit targets with pistols that have long been thought out of reach. For example, during a recent range session with a Trijicon RMR (Ruggedized Miniature Red Dot) optic on his pistol, Detty was able to hit a target at 100 yards with all of his shots. Without an optic, he says that same shot is a 50-50 proposition for him. "I think officers will come to love pistol optics," he says. "You can really concentrate on the target when you use them."