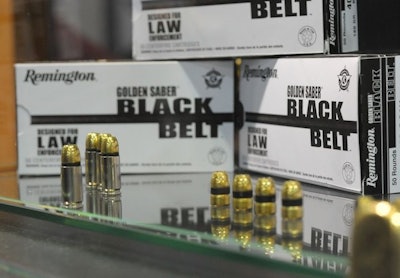 Remington Arms introduced Black Belt law enforcement ammunition in its Golden Saber line with loads for 9mm (including +P), .40 S&W, and .45 ACP at SHOT Show.
The Black Belt bullet, which was designed utilizing the FBI's barrier test protocol, features an hourglass shape and MechaniLokt belt that locks the core and jacket together. This technology produces "controlled expansion and penetration with high weight retention for optimized terminal performance," according to a Remington release.
Remington added spiral nose cuts and a hollow-point cavity to the bullets for more predictable and reliable terminal performance through barriers such as wall board or heavy fabrics. The lead core of the bullet is mechanically locked to the rear of the bullet, which prevents jacket/core separation within the barriers, according to the company.
The Golden Saber Black Belt ammunition features flash suppressed propellant and primers for minimal muzzle flash and nickel plated shell cases.